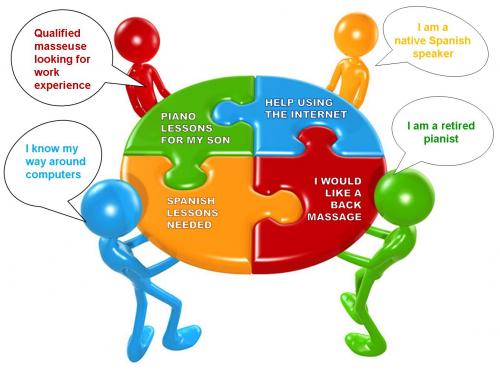 Timebanking is a flexible tool for rewarding participation, sharing resources, developing skills and building communities.
A time bank is a way for people to come together to help others – but also to get help for themselves. Participants 'deposit' time in the bank by giving practical help and support and are then able to 'withdraw' time when they need something done themselves. Members are usually called participants and not volunteers because in a time bank, everyone becomes both a giver and a receiver.
Anyone can join a time bank because everyone has skills and knowledge of use to others; in fact he greater the diversity, the wider the range of skills that can be exchanged. DIY - help with the kids – company on trips out - exercise - getting to know your neighbours – helping with shopping - giving advice on the phone – training and gaining new skills - sharing a picnic in the park - cooking – complaining about an injustice to the papers – the possibilities are almost endless.
As the 'currency' is time, all activities are valued equally.  An hour of gardening is treated as being of equal worth to an hour of website design.  That equality makes a time bank incredibly inclusive. We all also need support, friendship and good neighbours but too many people are really isolated. Time banks strengthen communities by bringing people together and creating new networks.  A time bank is a great way to get practical support and meet people.