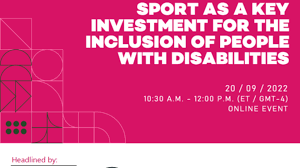 https://www.sportanddev.org/en/event/sport-key-investment-inclusion-peop...
In order to showcase their new outcomes-based pilot project, CAF and UNESCO are organizing a one-hour online launch event, live from the Sofitel Hotel (NYC), at the margins of the UNGA. This event will launch the upcoming CAF/UNESCO Social Outcomes Contract pilot project.

This pilot will target the priority areas of disability, equal access, and inclusion in physical activity, and will be situated in Santiago, Chile to dovetail with the 2023 Panam and Parapanam games.

This launch event aims to amplify the global conversation about the power of sport and physical education to stimulate cross-sector contributions to the SDGs, as well as to identify opportunities to replicate the pilot's innovative implementation model in other cities through UNESCO's global alliance Fit for Life.