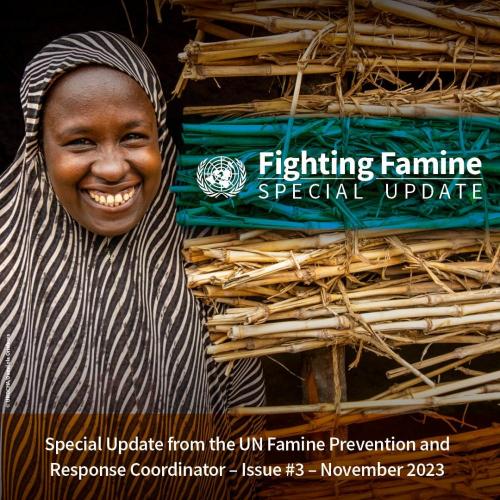 https://www.fightfoodcrises.net/fileadmin/user_upload/fightfoodcrises/do...
Fighting Famine is a special update highlighting critical aspects of global food crises, including response efforts and urgent priorities. It is produced with the support of the Global Network Against Food Crises.
The climate crisis is making extreme weather events more severe and frequent in East Africa, costing the region 2 to 4% of its annual GDP between 2020 and 2022, found a new report from Oxfam. At the same time, climaterelated development finance for the region remains insufficient at only $2.4 billion in 2021.
Equality is key. In fact, when economies grow without progress in equality, hunger increases, according to new research by CARE.
Most importantly, investing in gender equality appears foundational to improving global food security. The world is building back weaker, with the most vulnerable being hit hardest by the global food crisis. The latest data unveiled by UNCTAD points to economic slowdown and rising inequalities. Policy changes are needed to make sure no one is left behind.
A recent study from CARE analysing IPC through sex-disaggregated data in Somalia, showed how inequalities both shaped the food crisis and the differential experiences of men and women, but also demonstrated shifting gender dynamics, with the crisis expanding women's economic role in the household. We are off-track on the achievement of the Sustainable Development Goals, but more worryingly, we are seeing stagnation or even reversal of progress on hunger, malnutrition and food insecurity, showed the FAO progress report on food and agriculturerelated SDGs.
Acute hunger remains high Too many countries in the world are still grappling with high levels of acute food insecurity.
The Mid-Year Update for the 2023 Global Report against Food Crises released in September highlighted that acute hunger remained stubbornly high despite improvements in some areas.
The prevalence of people facing crisis levels of acute food insecurity (IPC/CH Phase 3 and above) stayed largely unchanged at about 21%, while the number of people in catastrophic conditions (IPC5) dropped significantly from 376,000 in 7 countries at the end of 2022 to 128,600 in 4 countries in August 2023. This decrease is the result of improved rainfall, the scale up of emergency assistance and critical access to populations, and will be temporary if not coupled with investments in resilience and social protection programming through sustained access.
The FAO–WFP early warning analysis issued at the end of October warns of a possible deterioration in 18 hunger hotspots. In these areas, millions of people are expected to face worsening acute food insecurity from November 2023 to April 2024 unless immediate assistance is provided. The hotspots of highest concern remain Burkina Faso, Mali, South Sudan and Sudan. Palestine has been added to the list due to the escalation of conflict.
Other countries of very high concern include Afghanistan, the Democratic Republic of the Congo, Ethiopia, Haiti, Pakistan, Somalia, the Syrian Arab Republic and Yemen. Chad, Djibouti, Niger and Zimbabwe have been added to the list of hunger hotspots at risk.
Countries affected by drought linked to El Niño – El Salvador, Guatemala, Honduras, Nicaragua as well as Malawi – remain of concern due to likely weather impacts on agriculture. The key drivers of food insecurity in those areas remain conflict and insecurity, economic shocks, and weather extremes. In this context, it is crucial to invest more in early warning and preparedness, including anticipatory action, to mitigate the impact on vulnerable populations. Suggested action include cash assistance, strategic livestock destocking, vaccinations or seeds distribution.
The global food crisis was one of the key issues on the agenda of the United Nations General Assembly high-level week in New York, in September.
The UN Secretary-General placed the fight against hunger as a top priority, saying: "In our world of plenty, hunger is a shocking stain on humanity, and an epic human rights violation. It is an indictment of every one of us that millions of people are starving in this day and age." In his message for World Food Day, he called on Governments, the private sector, civil society and academia to work together to bring this issue to the top of the global agenda. He urged Governments and donors to invest in durably transforming food systems. UN Member States also reiterated their commitment to end poverty and hunger in the SDG Summit declaration adopted on 18 September.
On the issue of the global food crisis, they highlighted five main priorities: transforming agri-food systems, promoting healthy diets, ensuring free movement of food and fertilisers,developing shorter supply chains and addressing food price volatility. While hunger was present in many political declarations of the General Debate, numerous concrete announcements were also made. World Vision, for example, pledged US$3.4 billion to eradicate child hunger and malnutrition globally