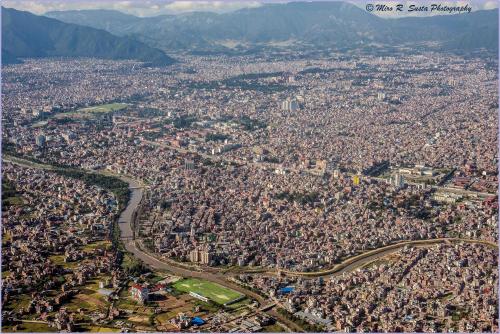 When I was a child, we used to play marbles (in Jhapa, Eastern Nepal).  I would walk with a dozen marbles from home and come back with two pockets full of them. Those were awesome days.  But I am not here to gloat about my marble-playing skills today. It is about the game and its analogy with our life today. We used to play a specific game called "Kathmandu". Till then, I only knew that it was the capital city of Nepal and was far away. Rules of the game were simple. We would have a small pit where we would throw few marbles. Then, from few meters away we would try to hit those marbles with another marble to get them out of the pit; whoever did that would take those marbles. However, slight touch on them would just make them move around the pit and it would take a precise throw and strong force to take them out, and some weak marbles would break as well.
When I think about the game and its name- "Kathmandu", it seems perfect now. We are like those marbles and Kathmandu is that pit. We, for some reason; be it to pursue higher education or secure better jobs and better life, enter this valley. And then we get stuck (like those marbles). We cannot move out of it our self until and unless we are hit by some strong external force.
The recent earthquake was such force. It hit many people and it hit hard. It forced many to go out of this valley, back to their place. Some who were hit too hard or were weak, broke down or dead.  But, like in the game, among those marbles which had gone into the pocket, some came out for next game; people returned back to Kathmandu after brief time for they have to start next game. Well, I happen to be one of those marbles back in the pit…ready to play the game and won't go out until I am hit hard by something strong next time. That force may not always come as a disaster but also as an opportunity that is too tempting to refuse.  
As per the report (Census 2011), Kathmandu district recorded the highest population growth rate in a decade with 60.93 percent and a population density of 4408/sq km. The population of Kathmandu district currently stands at 1.74 million. Currently, the population of Kathmandu Valley—which was 1.6 million 10 years ago—is 2.51 million,