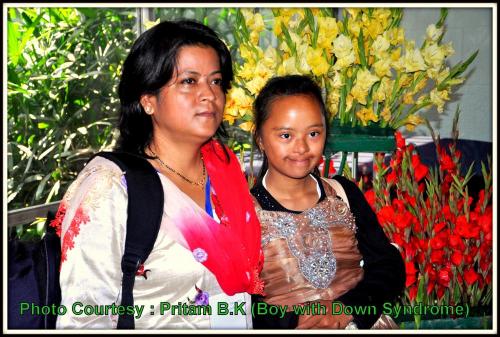 Shila Thapa is the Founder President of Down syndrome Society Nepal (DSSN). She is a mother of two, a social advocate who works on issues of rights and opportunities for people with Down Syndrome and other Intellectual Disabilities.
1. What inspired you to establish the Down syndrome society?
I was born in Bajhang. It falls on the western part of Nepal. I was born in a middle class family and got married to an army. I have two children. My first child, my daughter, was born healthy and normal. Satyam, my son was born with Down syndrome in 2002.
My whole vision changed after his birth. I was a house wife and I never had any experiences of working outside. As Satyam grew, I started noticing that his developmental progression differed from my daughter. He felt easily tired and had a very blue ankle. After consultations with physicians, he was diagnosed with Down syndrome and he had major heart problem too. It was not possible to treat him here in Nepal, so we took him to Delhi, India but Escorts heart hospital's doctors informed us that it was very late to do the surgery as there was a chance that he could lose his hearing and vision. But being a mother I didn't give up. I had lots of hop, so we took him to South India where one heart specialist was ready to operate my 6 months old son. Doctor took 8 hours for his open heart surgery. Those eight hours changed the way I looked at life. I thought about myself and other mothers who had children with special needs. I belonged to a middle class family and I had a very supportive husband and mother in law. Still it was very difficult for me. The moment doctor gave my son a new life, I was determined to do something in the field of down syndrome. Then I established Down Syndrome Society Nepal (DSSN), and Satyam Day Care Center. 
2. What exactly your organization does?
We have certain goals and objectives for which we run various programs..
DSSN Objectives:
Promote awareness of Down syndrome in the society.
Provide self training, self confidence and self dependent.
Provide required medical treatment for them.
Advocacy and lobby  on existing law and policy which is completely in charity based approach  
 DSSN Goals:
Rehabilitation center for children with Down syndrome in Kathmandu and later extension to other parts of Nepal.
Making them economically independent through providing vocational training.
Database collection of children with Down syndrome nationwide.
To start day care centers where we will provide education on life skill and practical education to children and other people with Down syndrome and other intellectual disabilities.
Provide vocational training
Organize work shop, training on different issues, round table, campaigning through different way, published   books and news letter etc.
3. What changes have you observed in our society regarding Down syndrome? Is there any change in people's perception?
The most important change that needs to occur is the change in attitude among people, especially parents. If the parents are not supportive then it becomes very difficult for children with disabilities to do anything. And it gives me immense happiness to see parents becoming more aware and supportive to their children with Down syndrome. Now most of the people know what Down syndrome is, which can be looked as a big achievement in a society like ours.
What can be done to mainstream people living with Down syndrome?
There are many things that need to be done but in my perspective these two are very important:
There should be changes in government policy regarding the education system. Government should prioritize education for special needs.
The people with Down syndrome should be given job opportunities.
What are your achievements?
There are few things I feel good about when I think about my struggle. I became successful and independent because of my son. He is my ultimate source of strength.  My work indentifies me. People know me because of my work. I am able to educate people on Down syndrome, to some extent I feel I have become successful in changing people's perception regarding Down syndrome. Parents are now aware and are willing to help their children with Down syndrome in providing necessary care and education. I take the establishment of day care centre and rehabilitation service as one of my biggest achievements. We have opened the day care centre in 10 districts. I am glad to be able to influence mothers like me who want to work towards the betterment of children with special needs. I was one of the Ashoka Fellows and my work led me to get UN Women Awards too.
4. What are your future plans?
Start permanent homes for the adult with Down syndrome where they can live independently.
Start a big vocational training center which will provide vocational training for people living with Down syndrome and other intellectual disabilities and help them find jobs too.
Established the day care center as much as where many children get proper intervention and education
Continue working on advocacy and lobbying with government and other stakeholder. 
5. What message do you want to give to the people regarding Down syndrome?
Treating people living with Down syndrome as equals can bring a lot of positive changes in our society. They are no less than us. If given proper care and opportunities they can excel as any other person. I would want to request all the people, directly or indirectly involved in Down syndrome, parents, and youths to be more sensitive towards people living with LDDs.
I just want to spread the message that people living with Down syndrome and other intellectual disabilities are MORE A- LIKE THEN DIFFERENT.