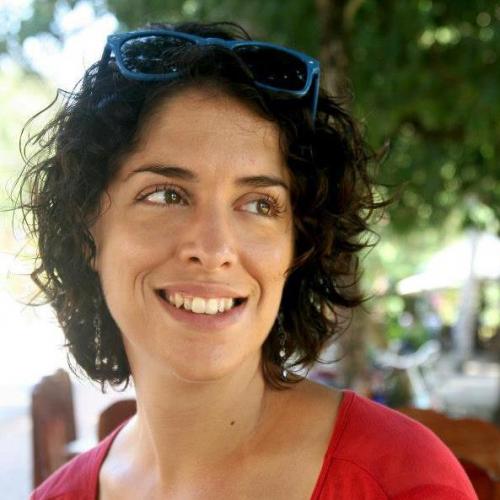 About Anna
Anna McKeon is representing the Better Care Network and the Better Volunteering, Better Care Initiative. Better Volunteering, Better Care is a joint program with Save the Children UK, also involving Better Care Network Netherlands, ECPAT, Faith to Action Initiative, Friends International, Hope and Homes for Children, SOS Children's Villages, and UNICEF. Better Volunteering, Better Care aims to discourage international volunteering in residential care centres, and promote ethical volunteering alternatives. Anna has been based in Cambodia for the past 3 1/2 years and is a communications and social change strategist specialising in initiatives focusing on young people and education.
Part I
( Part II will be published on Friday, 10th of April, 2015)
1. How did you start getting involved in the issue of orphanage volunteering? What is your educational and professional background
My professional background is in media and communications, and I spent 6 years in the UK working in a mixture of stage, television, and digital media. I first encountered the issue of orphanage volunteering when I decided to leave the corporate sector in the UK and moved abroad to …. volunteer in an orphanage - first in Kenya, and then again in Thailand. I volunteered for six months, and saw first-hand the harm that such centres, and the rotating door of volunteers can do to children. I was completely unprepared, really had very little idea what I was walking into, and was definitely old enough to have done some better research. However, my experience during that time does mean I have a good understanding of motivations for volunteer in orphanages, why people know so little about the risks involved, and also the difficulties of having thoughtful conversations about making change in this area with both volunteers, donors, or anyone involved in residential care settings.
After my volunteering experience, I was fortunate enough to take on a position as Communications Manager for an NGO in Siem Reap, Cambodia that was specifically involved in advocating against orphanage tourism and orphanage volunteering. As such I was able to put what was quite a disturbing experience for me into a wider context, and become much more informed about the issue. Recently, I have had the opportunity to be involved in the facilitation of an international initiative (Better Volunteering, Better Care) specifically looking at how to discourage people from volunteering in orphanages. I believe that this issue can really be a journey of understanding for many individuals, and one that people connect with in different ways, at different speeds, and using different language. Such an issue taps into what an individual perceives as "doing good" or "giving back", as well as their wider understandings of aid and development, and, crucially, their own nurturing instincts. All of these can be rooted in very personal experiences and beliefs, and as such, all conversation around the issue need to be sensitive and empathetic to the particular journey of the individual or organisations involved.
2. What is orphanage tourism? How can it do harm?
Orphanage tourism is the practice of visiting a residential care centre (usually in a developing world country) to take pictures or play with children for a short time. It can also involve visiting a centre to watch children put on dance or music performances.
Orphanage tourism is directly linked to volunteering in these settings, as there is no clear line as to what make a "visit" to a residential centre a "tourism experience" and what a "volunteer experience". Some people may visit a centre for a day and consider themselves to be volunteering within that setting. I consider any kind of "visit" to a residential care centre by someone who is not primarily involved in the continuing care of one particular child to be potentially harmful, and something to be discouraged.
Orphanage tourism and volunteering in residential care centres puts children at risk for a variety of reasons. These include:
Vulnerability to abuse. Residential care centres that accept visitors and volunteers quickly become the target for those with harmful intentions towards children. It is a commonly reported problem that organisations do not conduct adequate background checks, and allow volunteers unrestricted access to the children.
Normalising access of unqualified individuals to vulnerable children. While many visitors and volunteers have good intentions, they often do not realise that they are normalising the practice of allowing access of unqualified staff to vulnerable children – something that would not be permitted in their own country. In addition, normalising such a practice can also make it easier for potential abusers to gain access.
Disrupted attachment. Children form attachments very quickly which are then broken when a visitor or volunteer leaves. This is often compounded by visitors making promises that they them do not keep (i.e. they will promise to return, to write letters, to send gifts). For children who have already experienced trauma, including family separation, this can have a particularly adverse effect on their on-going development.
Imbalance of power. The status of the foreigner, or the visitor, can be a problem in terms of power dynamics. Children rarely feel able to say if they feel uncomfortable in a particular situation, especially those instances involving guests or wealthy foreigners who have paid for an opportunity to spend time with them.
Inappropriate behaviour from unqualified and unscreened volunteers. Most visitors are not qualified to work with children and so they have little understanding of how their behaviour can impact upon the emotional and social stability of children. For example, visitors can become attached to one or two children, creating favourites. This causes problems in regards to how children perceive their own worth (i.e. their sense of self-worth is linked to being an orphan/in an institution or they feel rejected if they are not favoured by visitors) and also creates problems in terms of how children relate to each other. Care leavers and past volunteers have also reported incidents of volunteers bringing alcohol into institutions, volunteers getting drunk on site, and volunteers engaging in sexual behaviour with each other or with guests while on site.
Cultural differences. As institution founders and subsequent visitors and volunteers are often from different countries, children become socialised to a way of living that can be very different to their own community and heritage. This becomes problematic when children leave the institution and try to reintegrate back into society.
(NB. I witnessed all of the above issues during my experience of volunteering in an orphanage, and I do not believe my experience to be exceptional).
The issues above are related to the direct impact visitors and volunteers can have on children in large residential care centres. However, a bigger issue in many ways is that, in many countries now, volunteers, through staffing and funding such centres, are sustaining a model of alternative care that is now globally acknowledged as being inappropriate for children, as suggested by the Guidelines for the Alternative Care of Children, welcomed by the UN.
Furthermore, and perhaps the primary concern of many child protection actors, is the reality that the involvement of international volunteers in residential care settings is, in some countries, creating a demand for "orphans", contributing to the separation of children from their families, and, in some cases, fuelling the active recruitment of children into residential care centres. Experts are concerned that the growth in residential care centres in some countries is another example of children being treated as a commodity to be used for financial gains. It is commonly known that in many developing countries, the majority of children in residential care centres have at least one living parent. The children are there because they enable the centre manager to solicit donations from volunteers, not because it's in the best interests of their development.
3. What are the motivations or triggers behind volunteering in residential day care centres and who are its promoters?
Volunteering abroad is very popular. When people travel – especially to a country that has high levels of poverty – they are often keen to "give back". As such, they look for easily organised opportunities to do so. Volunteering in a residential care centre tends to be a very popular option, as many people enjoy the idea of working with children, and on the surface offering to conduct basic classes, or look after children seems to be something most people would be able to do.
In addition, many people are genuinely moved at seeing children living in poverty, and want to find a way to help. Because responsible types of care for vulnerable children are not visible (deliberately so, to keep the children safe) volunteering in badly-regulated residential care centres quickly becomes one of the few obvious options. As many people don't have an understanding of the economic and social contexts of why a child may be on the street or living in poverty, they make assumptions about the best way to "help" that are often unfortunately misplaced.
In some regions, the business model of orphanages is now so developed, that it is almost part of a tourist itinerary in the region. In places such as Nepal, Cambodia, Ghana, Tanzania, for example, tourists will often be encouraged by local guides, taxi drivers etc, or by posters in guesthouses, to visit orphanages and "help". Without any other voices articulating why this isn't a good thing to do, many tourists assume these centres are legitimate, responsible organisations acting in the children's best interests.
Volunteering opportunities in residential care centres are promoted locally, nationally, and internationally, and can be done in any of the following ways:
Promotion by organizing communities – for example, student groups. Within student groups, volunteering is promoted as a rite of passage, an opportunity for professional development, and an access point for authentic, adventurous travel experiences. Volunteering is also directly linked to academic credit within the American and IB school systems. Volunteering in residential care centres is not promoted specifically, but rather appears to be a popular choice with young people. One exception to this is when young people who are interested in education or social work are encouraged to engage in placements with children in order to gain practical experience for their future careers.
Promotion by sending agencies. There are volunteer agencies catering to all audiences. Agencies catering to faith communities tend to be exclusive in their advertising and selection process, as is the case with agencies catering to the corporate sector. However, more general volunteer travel agencies often offer a range of programs for different audiences. For example, within one agency it is possible to sign up for family-volunteering, teen volunteering, volunteering for retirees, etc. Out of the 23 organizations in the first two pages of a Google search for "volunteer abroad", 20 offer childcare/orphanage opportunities. These placements are frequently referred to as "top placements" or "most popular".
Promotion by local agents. Within receiving countries, it is becoming increasingly common for the local tourist industry to promote opportunities to volunteer in residential care centres. Travel agents, hotels, restaurants, tour guides, and taxi drivers are engaged in encouraging tourists to visit or volunteer in orphanages. This may be demonstrated quite passively, through displaying leaflets and posters from local orphanages, or more actively through recommending particular centres to tourists.
Promotion by INGOs. Many international non-governmental organisations (INGOs) fund residential care centres in the global south. They are often active in recruiting volunteers to visit these settings. In addition, inappropriate marketing by INGOs, either through direct sponsorship models or asking individuals to support their projects and "make a difference in a child's life," were seen as contributing to the perception that such placements are worthwhile and appropriate.
Promotion by residential care centres. It is becoming increasingly common for orphanages to reach out directly to prospective volunteers, either through their own websites, social media, or by advertising on volunteer sites. In addition, orphanages advertise in-country through placing leaflets in hotels and restaurants and working with the local tourism industry.
Promotion by the media. Interview informants often referenced unhelpful stereotyping of poverty in mainstream media. Uncritical portrayals of "western heroes" establishing residential care centres, or volunteering in them, were seen as being instrumental in promoting the assumption that such activities were unquestionably beneficial to all involved.
Promotion by peers. The rise of social media (especially Facebook and Instagram) has made it easier than ever to instantly share experiences with friends and relatives. In sharing images of their volunteering activities, individuals are effectively promoting their own experiences to their peers. It is worth noting that media and photography policies are not evident in some residential care centres, and photographs of children can be taken by volunteers and shared online without permission or regard to due process.
4. In which countries is this issue a problem? Is there any best practice developed around the world? Has any partnership between NGO, private sector and government been created?
Any area which is actively promoting opportunities to volunteer in residential care centres is demonstrating that a problem exists with adequately protecting vulnerable children in that setting. Opportunities for volunteering in residential care centres were identified in over 20 countries:
Vietnam
Cambodia
Thailand
Indonesia
Nepal
India
Ghana
Gambia
Uganda
Kenya
Rwanda
Ethiopia
Tanzania
South Africa
Haiti
Guatemala
El Salvador
Mexico
Nicaragua
Peru
Chile
Eastern Europe was previously a popular destination, but experts suggest that the changes in alternative care regulations in this region have resulted in the practice becoming less common.
The question of "best practices" in this case is difficult, as any "best practices" in volunteering in residential care centres by definition are not best practices, as the preferred scenario is for volunteers not to be present in these centres at all.  
In terms of choosing a responsible volunteer placement, there are some good resources available online, including:
Learning Service. This information site has some clear videos about how to choose a volunteer placement, and being a valuable volunteer.
Next Generation Nepal has a guide to ethical volunteering
Irish Development Agency Comhlamh have a great range of resources, including this comprehensive list of things to consider before volunteering abroad. .
5. What are the solutions or alternative models? What about a skilled volunteer in a well-run orphanage? Could this option work out well, for example, together with home based activities where a volunteer is placed within the families living in the community?
Many people ask for recommendations of "good orphanages" where they can volunteer. The reality is, that almost any orphanage accepting volunteers cannot be a "good" orphanage as they are accepting volunteers! In addition, any well-regulated orphanage that understands the best interests of the child, will be implementing transition programs in order to try and reintegrate children with their families, or find other care solutions outside of the orphanage setting.
If a volunteer has relevant skills – i.e. they are a social worker, psychologist, or teacher, then there may be cases where it is appropriate for them to volunteer at a residential care centre in order to build the capacity of the local staff, or transfer particular skills. It is still not appropriate for them to be volunteering directly with children: often an international volunteer will not speak the language, will not understand the cultural context. It is also much more sustainable for a teacher, for example, to train a local teacher to deliver fun, child-centred lessons, than it is for a teacher to do that themselves – only to leave after 4 weeks and the children go back to their usual lessons.
If a volunteer is staying with a local family, then the organization involved needs to be very careful about conducting background checks and screening volunteers so that local children exposed to the risk of abuse. Homestay scenarios can be very rewarding for volunteers and families alike, but both parties must be properly trained, understand boundaries and guidelines, and understand the risks involved.