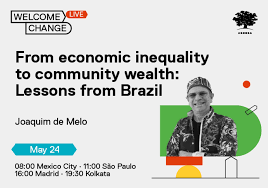 In many democracies, growing wealth inequality is increasingly showing up as a destabilizing force. What happens when we shift a sole focus on individual prosperity and broaden our lens to community wealth?

To walk us through what this shift looks like, we'll speak with Ashoka Fellow Joaquim de Melo, founder of Banco Palmas, Brazil's first community bank that opened its doors 25 years ago. We'll hear about how they pioneered an alternative currency (which is now also a digital currency) to build and retain community wealth in Fortaleza, and how they have since grown into a national movement of 150 community banks, which mobilizes and redistributes 1.5 billion reais (nearly 300 million USD) yearly in local economies.
This conversation will last 30 minutes and will be in Portuguese with simultaneous translation to English. Bring your questions!
https://www.ashoka.org/en-us/fellow/joaquim-de-melo-neto-segundo