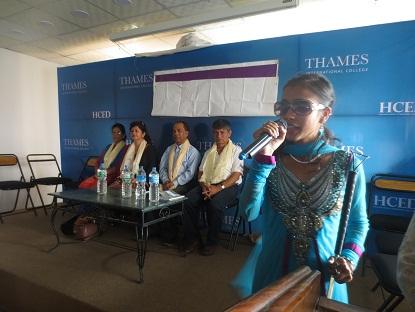 And today, 28th of June at the Hallo of Thames College, Old Baneshor, another memorable  event got added in our list as we successfully inaugurated our 'Blind Rocks Youth Club' under the chairmanship of our chief guest 'Madan Krishna Shrestha' and other honourable dignitaries.Major attraction of the program,Blind Race was itself a demo of inclusion,trust and co operation.We hope motivational seminar by respectable mentor Raman Nepali proved real useful to all the participants.
So here we start our next step of our journey.We would like to thank all our guests,participants,volunteers and donors.We expect same kind of help and active participation in coming days too.
 Sharing the concept of club. Blind rocks club will be an open platform for both disabled and non-disabled youths where they can discuss openly about various prospects of life and society such as stereotypes, gender discriminations, barriers for disability, different political issues etc so as to exchange knowledge and boost up their confidence to reach the creative and practical conclusions.
The meetings will be held on every second Saturday of the month. PLEASE DO NOT MISS IT
Best regards
Sristi