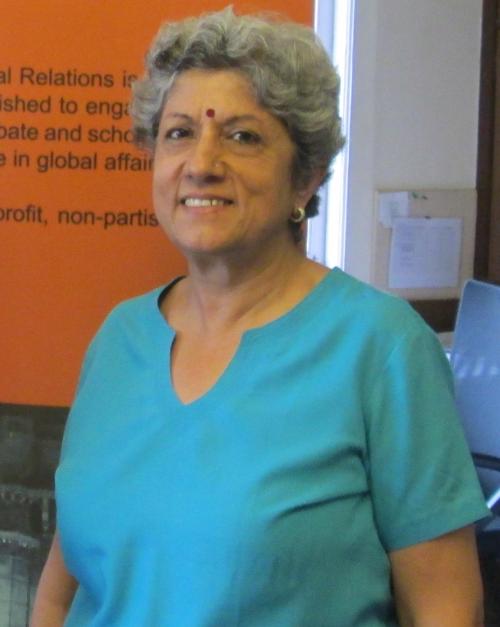 About Ambassador Deo
A distinguished diplomat, Neelam has been the Indian Ambassador to Denmark and Ivory Coast with concurrent accreditation to several West African countries. She has also served in Indian embassies in Bangkok—at a time when the ASEAN was evolving and the Cambodia question was being discussed in Paris, in Rome while the Red Brigade was still active and the European Union was nascent, and in Washington D.C.
It was here that she took on her most challenging mission and liaised with the U.S. Congress on strategic issues, and took the opportunity to speak on India's position in her interactions with various think tanks and universities. Neelam's last assignment was as Consul General in New York from 2005 to 2008. During the course of her assignments in the Ministry of External Affairs, she was Joint Secretary for Bangladesh, Sri Lanka, Myanmar and the Maldives. At different times over the course of her career, Neelam has been on the desk for Bhutan, South East Asia and the Pacific—during an era of growing anti-Indian sentiment in Fiji. She has also worked on the Middle East and North Africa desk—most significantly during the 1980-1988 Iran-Iraq war—and retains an active interest in the region.
She has a Master's degree from the Delhi School of Economics and is currently on the board of Breakthrough (a human rights organisation), Oxfam India and Mahindra CIE Automotive Limited. Apart from her articles and commentaries written exclusively for Gateway House, Neelam writes for several mainstream publications, and is an occasional commentator for mainstream television news channels.
First of all, reading the Kathmandu Declaration at the conclusion of the 18th SAARC summit, were your expectations matched with the final outcomes?
The Kathmandu Declaration is a re-stating of the sort of objectives that have been a part of all other declarations and indeed are the longterm objectives of all SAARC countries. However, while there may have been some progress on these social issues in each of the member countries, very little has been done at the SAARC-level. This is true even in some of the most obvious areas where there can be little progress without regional cooperation, like containing terrorism, and stopping human trafficking have been inadequately addressed at the SAARC-level.
Following Prime Minister Narendra Modi's warm outreach to the leaders of fellow SAARC countries at his swearing-in ceremony in May and the high hopes raised by his 'neighbourhood first' policy, the outcome of the Summit was disappointing. This is especially so considering the expectations from the summit were modest enough to begin with, evident in there being only three agreements to be signed, the outcome—the signing of just one agreement—makes the summit appear to be an even bigger disappointment.
During your presentation in Kathmandu, you said ambition is running ahead of implementation. How to keep the momentum now? Two key agreements on connectivity were not signed, the leaders' summit will be held only in 2016, will the political will be strong enough to move ahead the SAARC?
The problem with SAARC is poor India-Pakistan relations. Civilian governments in Pakistan are constrained by the army and intelligence agencies which dominate foreign policymaking. In the meantime, India has at various times offered asymmetric concessions to SAARC countries—e.g. open borders with Nepal and Bhutan, and offers almost free movement of goods from the LDCs, including the Maldives. With Sri Lanka, India has good relations and booming trade governed by the India-Sri Lanka Free Trade Agreement. The outlier remains Pakistan.
The geography of SAARC is such that we're really talking about connectivity and trade with India and through India. Given the state of India-Pakistan relations, not much will happen on the West, which will leave Afghanistan disconnected. On the other hand, in our East, North and South, connectivity and energy trade will increase by the time the 2016 SAARC Summit takes place.
The Indian Prime Minister Narendra Modi spoke not only about enhanced regional cooperation but also of regional integration. Oftentimes the two terminologies, cooperation and integration are used interchangeably but they are pretty different in purpose. After the 18th Summit, are we heading for more cooperation, more integration or both?
Unfortunately, as SAARC, we appear to be heading for neither in the West. As mentioned in the previous comment, as long as the arms of the elected government of Pakistan are tied by actors orchestrating their internal conflagrations, cooperation and integration will be limited at best. Signs, however, are more optimistic for cooperation and integration at a bilateral level among SAARC countries and with India's neighbours to the north, east and south.
What India can do to maintain and enhance the pathway towards a more vigorous integration process? At institutional level, which steps should India take? How to create ownership also among the other members?
India should proceed on the basis of the agreements signed and unsigned and hope that in matters of trade and physical connectivity, the whole of SAARC can move forward, as and when Pakistan stops being obstructionist, since all decisions require consensus.
Meanwhile, India can continue to build on bilateral connectivity.
The Leaders even talked about setting up a South Asian Economic Union? Which kind of timeframe would you envision for such ambitious goal?
There has been talk of a South Asian Economic Union, a SAARC bank and even a SAARC currency. To come to fruition, all of these will need a positive response from Pakistan because SAARC procedures require consensus. Until such a time, India and the other countries must work on what was agreed upon in SAFTA.
In your presentation you strongly mentioned the positive role that religions could play to enhance regional harmony and therefore play an instrumental role for a stronger SAARC. Could you elaborate?
The importance of religion in the region—that comprises four Islamic nations, two Buddhist majority nations, and two Hindu majority nations—should not be underestimated since the people in South Asia are devout in their beliefs. Understanding can be promoted through religious tourist circuits for the region's Buddhists, Sikhs, Muslims, Christians and Hindus, all of whom have shrines spread across the region.
Gateway House, the research center you are associated with, is a relatively new player within the think tank community in South Asia. To me it seems it is bringing some "fresh air" in way of thinking and promoting and analyzing geopolitics in the region. What are the future plans at Gateway House?
In the fifth year of our existence, our plan is to continue to graduate to the next level without compromising our independence. This will include analysing a wider range of topics and regions, publishing more research papers and expanding the scope of our joint research projects with other think tanks.
Last but not the least, based on your huge diplomatic experience around the world, how can the people of South Asia contribute to a common regional "project"? How to really make the People's SAARC stronger and most importantly more relevant?
Fora like PSAARC may seem less significant, when there is the sort of situation Pakistan creates through the overwhelming influence of its army and intelligence agencies. But the warmth that engagements at the PSAARC-level create are what bring democracies like ours closer together and creates peoples pressure to make governments drop barriers. We hope such interactions become more frequent and influential.