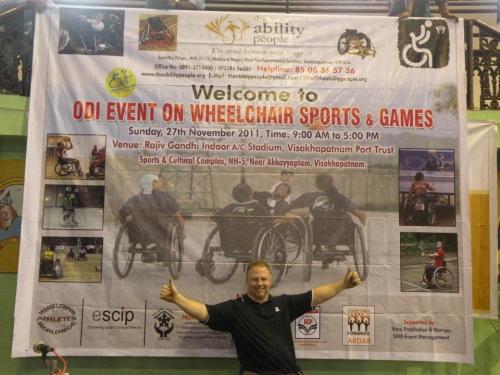 Interview with Coach Hughes, University of Arizona's women's Wheelchair Basketball Team Coach and founding member of Wheelchair Athletes Worldwide
Peter Hughes has been a coach with the University of Arizona for 10 years.  He has a Bachelor's degree in Adapted Physical Education from San Diego State University and a Master's degree in Education (Exercise and Sport Psychology) from the University of Western Australia where he was introduced to wheelchairs sports. Pete first moved to Tucson in 2004 to play wheelchair basketball for the University and in 2005 started coaching here.  His first three years he coached the Track and Road Racing team coaching several Paralympian's before moving over to coach the Women's Wheelchair basketball team.  The last four seasons the women's wheelchair basketball team has gone to the NWBA finals four times in a row and has won two championships.  Pete also coordinates the JAWS (Juniors Active in Wheelchair Sports) program for the University.  A free program that promotes fitness and sports for the mobility impaired population of Southern Arizona.  He is a founding member of Wheelchair Athletes Worldwide, a non-profit organization that donates and coaches wheelchair sports in countries that does not have the same opportunities as they do in the USA.  An advocate for individuals with disabilities, in March of this year joined the ALS Arizona team to help educated and promote awareness in Tucson and southern Arizona as well as help assist families coping with ALS.  
Q.How did you start get involved with wheelchair basketball?
I was an "American Football" coach in the USA when I decided to study abroad.  I went to the University of Western Australia and received my Masters degree in Sport Psychology working with disabled sports programs.  One of the coaches made me my first wheelchair and I started playing.  Returned to the USA and started getting more competitive.  Decided to and was offered a scholarship to attend the University of Arizona to play wheelchair basketball where I studied Business. When my wife and I were expecting our first child I "settled down" and starting coaching wheelchair sports (First wheelchair Track and Road Racing then Women's Wheelchair Basketball.
Q.Can you explain how wheelchair basketball is organized in the USA?
Wheelchair Basketball in the United States is played under one organization.. The NWBA (NWBA.ORG) and several different divisions are underneath the charter organization.  There is a Championship Division for the elite level players, a Division 3 for beginners, a Women's Division for just women and a Collegiate women's and Men's Division (reserved only for full time students at Universities.  Additionally there are three Junior divisions Prep (for 3-7 year olds, Junior Varsity for 8-14 and Varsity for 15-18 year olds.  Every April all the teams meet their Championships (Women's and College hold theirs separately in March)  Do you have college based competitions? There are several college teams and yes they play each other for the Colligate championships.  Illinois, Missouri, Wisconsin, Texas, Arizona, Pennsylvania are all states that host collage programs.  Our program at the University of Arizona is the largest in the nation supporting not only Men's and Women's Wheelchair Basketball but also Wheelchair Track/Road Racing, Hand cycling, Wheelchair Rugby, and Wheelchair Tennis.  Do you have a national league too? We do have a National league  How does it work? Your team declares for a division (My University actually plays in the Championship Division for Men and the Women's division for women.  We do not play in the College division as we allow some non-students to play on our team if they live locally.
Q.Do you have lots of sponsors?
We have some people that sponsor events.  We host a "Run and Roll fundraiser which people sponsor and fundraise for.  It raises money for our program and we are lucky enough to have a benefactor who years ago donated 1 million dollars to our program which established an endowment and funds to run the program. 
Q.Can you tell us about the WildCats, the female wheelchair basketball team of Arizona State University that you have been coaching for so many years?
The University of Arizona is the name of the school…There is a school north of us called Arizona State University that we dislike very much.  We are the Wildcats and they are the Sun Devils!  If you mix them up out here you might insult somebody.  LOL. It is one of the strongest team, how did you create the right environment for winning? I explained a bit about the program earlier.  Our women's team has been in the Championship game the last 4 years in a row and we won two of those games in 2012 and 2014.  As with anything…winning is a process.  You have to teach people not to cut corners and to take care of the little details.  We practice 5 days a week for 2 ½ hours per day, We make sure our equipment is working, we weight lift 2-3 times a week additionally and some of my players spend additional time in the gym on their own.  All players understand that we put Education first then performance on the court.  We set our goals as a team and encourage each other to reach both individual and team goals.  We celebrate when we reach those goals, we adapt and persevere when we fall short of those goals. 
Q.Three of your athletes will compete in Rio 2016. This is quite remarkable, considering also that many of your players were regular members of the USA National Team. What is your secret? 
This is actually not true.  We don't yet know who will go to Rio from my team.  At one time we did have three players on team USA, but currently only one player (Jenn Poist) is an active member of the Paralympics and competed with Team USA in 2012.  Two years ago we had 7 of my 8 players invited to the try out which is amazing and 4 of them made the USA team.  However this was a non-paralympic year and since some of them have dropped out due to various different reasons.
Q.How do you see the season this year?
This year we are basically starting from Scratch.  We lost 4 starters last season so it will be really tough, but you need to reset your program every couple of years with new players who are hungry for success so it will be good.  While winning titles is awesome my expectations of success revolve around effort.  I believe we have a team of players that will give everything they got this season so I'm excited for us.   
Q.Who are the favourite teams?
New teams LA and Milwaukee look very strong this year in the women's division.  Last years champions (Denver) will also be very good.  Each of those teams has several Paralympians playing for them. 
Q.Sport playing in general can teach a person a lot of things. We believe that wheelchair basketball or other wheelchair sports can be really good at making a person stronger, a real leader. What are your thoughts about it?
Absolutely true. It can teach you goal setting, time management, sacrifice.  It will make you physically and mentally stronger, will show you that communication is not only a key element in sports but in life as well.  Almost always forgotten is the type of influence a young disabled athlete can have on the people in their environment.  Sometimes people see a person in a wheelchair making a basket and think…"Man I can't do that and nothing is wrong with my legs" and it inspires them not to quit….It is quite powerful. 
Q.After so many years of coaching, what are your key learning? What are the secrets to be a good coach?
 Plan well, always teach, make sure your players understand that no one is better then the fundamentals of the sport.  Emphasis always needs to be put on Chair-skills since that is the only skill that a wheelchair athlete is always using.  You don't always shoot, or pass or play defence, but you always move your chair so a majority of skill acquisition needs to be based on that simple fact.  Finally, do the right thing and never compromise ethics or integrity for victory. 
Q.Do you have anyone, a former coach or a colleague that inspires you?
Too many to name. I've worked for many good coaches both in wheelchairs sports and "Able-Bodied" sports.  I'm always impressed by the top level players…the Paralympians because while I was a great player in my day I never was able to make the full sacrifice that they do.  I am aware of how much extra time and effort they put into the training of their body and the mental strength that it takes.  When I see this it inspires me to work harder as a coach.  To make sure that while not all my athletes will reach this level, at least I will give them the tools they need if they decide to go for it.