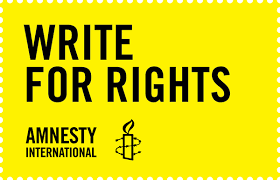 https://www.amnesty.org/en/get-involved/write-for-rights/
Throughout history, protest has been a powerful tool for change, but this precious right is under attack. Many governments around the world are restricting people's right to protest, because they fear change. They want to maintain the status quo. They want to keep people divided. 
In a world where the opinions of people are often repressed, protecting human rights, land, and the environment becomes more and more dangerous. 
The world needs more people to turn their outrage into action, to invite their friends and family to participate, to get involved, and demand equality and justice from their governments. 
For over 20 years, Amnesty International's annual Write for Rights campaign has transformed the lives of people whose rights have been wronged. Using the power of their words, Write for Rights supporters have united behind a common purpose: together, we can change lives for the better. 
Take action today and change a life forever. 
NOW, WRITE A LETTER
Signing a petition is a great way to take part in the campaign. But did you know there are other ways to take part in Write for Rights?  
Imagine being locked away, alone, not knowing if anyone cares where you are. Now imagine receiving a letter from someone, telling you they believe in you. That's what real letters can do: bring hope to people in the direst of situations. When letters arrive in huge numbers, they are also an unmistakable reminder to prison authorities and others that the world is watching. 
If you want to lend your pen to this kind of direct action, download our handy letter-writing kit below.