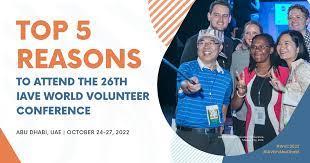 https://www.wvc2022.ae/registration
Colin Rogers is the Global Head of Disaster Preparedness & Response for Plan International and supports Plan's country offices preparedness activities for future crises. He supports country offices respond to new crises and manages the core surge capacity within the organization. He was the first elected President of Sphere, the leading humanitarian standard used by humanitarian agencies globally to ensure program quality and effectiveness. Colin will be presenting on Disaster Response and Delivering Effective Intervention.
Benedetta Falletti di Villafalletto is the Project Director at Volies, leading the design of strategies, research, training and the development of new projects to increase the impact and professionalize employee engagement programs management. She also coordinates the Voluntare network and has created and led the #COMPANIES4SDGs campaign to share and take action for the SDGs. The program works with over 500,000 employees across 45 countries. Benedetta will moderate the session on Developing Skills-Based Volunteering Programs.
Dr. Tania Haddad is an Assistant Professor for Public Administration and Nonprofit Management at the American University of Beirut and a leading scholar on civil society and volunteering in the Arab World. Her research focuses on the fields of civil society and gender issues, social justice, volunteering, disaster management and e-government. Her research has appeared in many academic journals including Voluntas, Nonprofit policy forum, and The Journal of Nonprofit Education and Leadership. Tania will be presenting on Corporate Volunteering for a Post-Pandemic World. 
Dr. Kenn Allen is the Founder and President of Civil Society Consulting Group. He pioneered the study of corporate volunteering in the U.S. as lead researcher and co-author of Volunteers from the Workplace in 1979. Since then, he has researched and authored several studies on corporate volunteering, including A New Competitive Edge, Global Companies Volunteering Globally, The Big Tent: Corporate Volunteering in the Global Age, and Corporate Volunteering in a Post-Pandemic World.  Kenn will be presenting on  Developing Skills-Based Volunteering Programs.