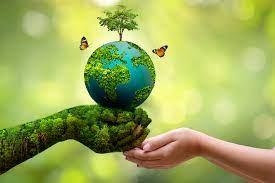 https://www.un.org/en/observances/environment-day
Solutions to plastic pollution
More than 400 million tonnes of plastic is produced every year worldwide, half of which is designed to be used only once. Of that, less than 10 per cent is recycled.
An estimated 19-23 million tonnes end up in lakes, rivers and seas annually. That is approximately the weight of 2,200 Eiffel Towers all together.
Microplastics – tiny plastic particles up to 5mm in diameter – find their way into food, water and air. It is estimated that each person on the planet consumes more than 50,000 plastic particles per year –and many more if inhalation is considered.
Discarded or burnt single-use plastic harms human health and biodiversity and pollutes every ecosystem from mountain tops to the ocean floor.
A movement that arose in the 70's
The year 1972 marked a turning point in the development of international environmental politics: the first major conference on environmental issues, convened under the auspices of the United Nations, was held from June 5-16 in Stockholm (Sweden). Known as the Conference on the Human Environment, or the Stockholm Conference, its goal was to forge a basic common outlook on how to address the challenge of preserving and enhancing the human environment.
Later that year, on 15 December, the General Assembly adopted a resolution (A/RES/2994 (XXVII)) designating June 5 as World Environment Day and urging "Governments and the organizations in the United Nations system to undertake on that day every year world-wide activities reaffirming their concern for the preservation and enhancement of the environment, with a view to deepening environmental awareness and to pursuing the determination expressed at the Conference." The date coincides with the first day of the landmark Conference.
Also on 15 December, the General Assembly adopted another resolution (A/RES/2997 (XXVII)) that led to the creation of the United Nations Environment Programme (UNEP), the specialized agency on environmental issues.
Since the first celebration in 1973, World Environment Day has helped UNEP to raise awareness and generate political momentum around growing concerns, such as the depletion of the ozone layer, toxic chemicals, desertification and global warming. The Day has developed into a global platform for taking action on urgent environmental issues. Millions of people have taken part over the years, helping drive change in our consumption habits, as well as in national and international environmental policy.
Why take part?
Time is running out, and nature is in emergency mode. To keep global warming below 1.5°C this century, we must halve annual greenhouse gas emissions by 2030. Without action, exposure to air pollution beyond safe guidelines will increase by 50 per cent within the decade and plastic waste flowing into aquatic ecosystems will nearly triple by 2040.
We need urgent action to address these pressing issues.
With available science and solutions to tackle the problem, governments, companies and other stakeholders must scale up and speed actions to solve this crisis.
This underscores the importance of this World Environment Day in mobilizing transformative action from every corner of the world.