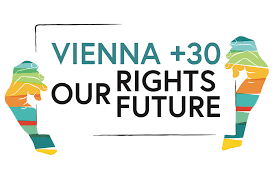 https://www.ohchr.org/en/stories/2023/06/vienna-30-looks-future-human-ri...
To celebrate the occasion, the Government of Austria and UN Human Rights will hold a high-level event on 5-6 June in Vienna to reflect on progress and revitalize a worldwide consensus on human rights, essential to confront today's challenges. Thirty years after the Vienna Declaration, the world faces multiple crises, and the commitment to human rights is more important than ever.
The two-day event will also be one of the key milestones in a year-long initiative by Human Rights to celebrate the 75th anniversary of the Universal Declaration of Human Rights.
"The Vienna Declaration infused the global consciousness with a straightforward yet pivotal formula for human rights: that you cannot have one human right without the other," said High Commissioner for Human Rights Volker Türk, who will take part in the celebrations and will meet Austrian President Alexander Van der Bellen, Foreign Minister Alexander Schallenberg and other officials. Leading human rights defenders and thought leaders will participate in panels.
Building on the Universal Declaration of Human Rights of 1948, delegates at the World Conference on Human Rights in Vienna overcame differences and affirmed the universality, indivisibility and interdependency of human rights.
The Vienna consensus represented a substantial commitment by Member States to pay greater attention to human rights and gave birth to historical advances on rights of women, children, indigenous peoples, minorities and other groups. The conference also led to historic advances in the fight against impunity, including the establishment of the International Criminal Court, raising hope that the world's most at atrocious crimes would not go unpunished.