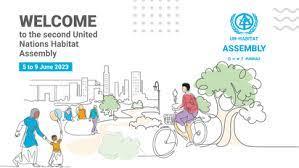 https://unhabitat.org/governance/un-habitat-assembly/second-session-2023
As the governance body of the United Nations Human Settlements Programme (UN-Habitat), the United Nations Habitat Assembly convenes every four years. It is the highest global decision-making body on sustainable urbanization and human settlements.
The 193 UN Member States cast the votes, while participants include non-Member States, other UN bodies and specialized agencies, as well as intergovernmental organizations, civil society, private sector, academia and research institutions, women, youth and children, and grassroots organizations.
Thematic debates and discussions during the Assembly will focus on the following topics:
Universal access to affordable housing: Member States are encouraged to explore mechanisms to achieve the universal right to adequate housing and move towards removing existing barriers to affordable housing.
Urban climate action: to achieve the global commitment to stay within 1.5˚C limit on rising temperatures by 2030, Member States are encouraged to explore realistic urban pathways for climate action.
Urban crises recovery: current crises are increasingly more urban, with cities very often serving as the main places of arrival for displaced people. Member States are encouraged to empower cities to respond to urban crises and support national recovery efforts.
Localization of the SDGs: the Assembly will look at local actions needed to advance the implementation of SDGs to meet the 2030 Development Agenda targets. Member States will also be invited to explore financial mechanisms to ensure resources are directed toward urban development and reach local levels.
Prosperity and local finance: to accelerate the achievement of Sustainable Development Goals, respond to urban crises, advance urban climate action, and ensure adequate and affordable housing for all, cities need policies and fiscal resources. Member States are invited to explore policies and market mechanisms to ensure financial flows directed towards urban development and reach local levels. 
The second UN-Habitat Assembly kicked off on 5 June 2023 at the UN-Habitat headquarters in Nairobi, Kenya. The Assembly was opened by the President of Kenya, William Ruto. It brought together almost 5,000 delegates from more than 130 countries across the globe, who joined the session in person and remotely.  
The theme of the Assembly centers on the discussions of how to advance the achievement of Sustainable Development Goals, specifically Goal 11, on creating sustainable cities and communities. UN-Habitat believes that through inclusive and effective multilateralism, the world can start emerging from multiple crises – pandemics, climate emergencies, and conflicts.  
Following the Covid-19 pandemic, the ripple effects are still being felt across the world as the pandemic deepened existing inequalities and created new vulnerabilities. According to the UN-Habitat's World Cities Report 2022, the pandemic created a whole class of new poor, between 143 and 163 million people. 
"Global temperatures are rising, with catastrophic effects. Debt is straining developing countries' economies to the limit. UN-Habitat tells us that one billion people still live in slums," said the United Nations Secretary-General António Guterres in the video address to the Second United Nations Habitat Assembly. "There is still time to reverse these trends."  
Credits: IISD/ENB Mike Muzurakis
In his opening address to the assembly, President William Ruto stated, "The world is emerging from a devastating pandemic while grappling with unprecedented economic crisis driven by geopolitical tensions as well as the triple planetary crises of pollution, loss of biodiversity and climate change."  
Credits: IISD/ENB Mike Muzurakis
"What we urgently need is a mindset shift. From business-as-usual planning and operation to one aiming at real sustainability transformation," said the President of the General Assembly, Csaba Kőrösi, in his video address to the Assembly. "This means strengthening the science-policy interface, advancing evidence-based solutions, and approaching our goals holistically." 
Through engaging with stakeholders on a local, national, and global level, there is hope that positive change can be made. This was brought out in Executive Director's address to the Assembly, "The only way we can achieve positive and transformative impact on the ground is not to go it alone but to embrace multilateral action.". 
Credits: IISD/ENB Mike Muzurakis
The Assembly was also addressed by the Vice President of Botswana, Slumber Tsogwane, who stated the importance of considering what is required for urbanization to be done sustainably, specifically within the region of Africa.  
"For Africa, if urbanization doesn't come with digital economic transformation, mindset change, and the industrialization dynamic as expected to, it will be a missed opportunity." 
During the five days of the second United Nations Habitat Assembly, the UN Member States will cast their votes with several resolutions expected to be tabled to guide regional, national, and local governments to secure a better urban future for all.  
 These include: 
International Guidelines on people-centered smart cities  
Accelerating the transformation of informal settlements and slums by 2030 
World Clean-up Day 
Biodiverse and resilient cities  
Localization of the Sustainable Development Goals 
Adequate housing for all  
 The five-day session will conclude with a Ministerial Declaration upon reaching an agreement. 
The Assembly is the highest-level decision-making body on urban issues within the UN system. It is composed of 193 UN Member States and meets once in four years. The first United Nations Habitat Assembly took place in 2019, before the COVID-19 outbreak.