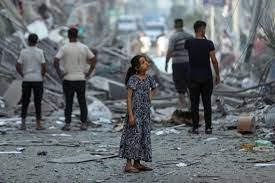 Updated 19 November 2023
https://www.unicef.org/emergencies/children-gaza-need-lifesaving-support
The escalation of hostilities in the Gaza Strip is having a catastrophic impact on children and families. Children are dying at an alarming rate – thousands have reportedly been killed and thousands more injured. An estimated 1.5 million people in the Gaza Strip have been displaced – more than half of them children. They're running out of water, food, fuel and medicine. Their homes have been destroyed; their families torn apart.  
"In all wars it is children who suffer first and suffer most."  
Even wars have rules. No child should be cut off from essential services, nor fall from the reach of humanitarian hands. No child should be held hostage or used by any means in armed conflict. Hospitals and schools must be protected from bombings, and they must not be used for military purposes, in accordance with international humanitarian law. No child should suffer the threat of bombs from their beds. The cost to children and their communities of this violence will be borne out for generations to come
What is UNICEF calling for? 
To respond to the situation for children in Israel and the State of Palestine, UNICEF is calling for:   
1 An immediate humanitarian ceasefire
2 The immediate, safe and unconditional release of all abducted children and the prevention and end to any grave violations against children, including killing and injuring.
3 All access crossings into the Gaza Strip to be opened and safe movement for humanitarian workers and supplies across the Gaza Strip to ensure sustained and unimpeded access of humanitarian aid to affected populations wherever they are. This must include water, food, medical supplies, and fuel.
4 Urgent medical cases in Gaza to be able to safely access critical health services or be allowed to leave, and for injured or sick children evacuated to be accompanied by family members.
5 Respect and protection for civilian infrastructure such as shelters and schools, and health, electric, water and sanitation facilities, to prevent loss of civilian and children's lives, outbreaks of diseases, and to provide care to the sick and wounded. All parties to the conflict must respect international humanitarian law. 
UNICEF continues to press world leaders on every occasion for humanitarian access to the whole of Gaza.