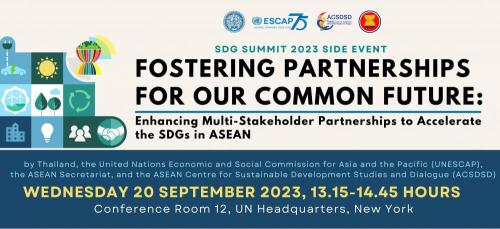 https://www.unescap.org/events/2023/fostering-partnerships-our-common-fu...
https://www.unescap.org/sites/default/d8files/event-documents/SDGs%20Sum...
https://www.unescap.org/sites/default/d8files/event-documents/Concept%20...
The spirit of cooperation and partnership lies at the heart of ASEAN's efforts to realise a people-centred Community that uplifts the standards of living of ASEAN peoples and leaves no one behind. In support of global efforts on the SDGs, ASEAN has been working together and with external partners to promote complementarities between the UN 2030 Agenda and the ASEAN Community Vision 2025, or also known as the "Complementarities Initiative". To support its implementation, the ASEAN Centre for Sustainable Development Studies and Dialogue (ACSDSD) has been set up in Bangkok, Thailand, to serve as a regional institutional mechanism to enhance multi-stakeholder engagements through promoting research on sustainable development and supporting a dialogue within ASEAN and between ASEAN and external partners on sustainable development cooperation.
Recognising the importance and benefits of ensuring a concerted effort, multi-stakeholder collaboration at the local, national, and regional levels, this side event will provide an avenue for participants to share good practices and lessons learned in localising SDGs implementation and cultivating effective multi-stakeholder engagements for sustainable development. Drawing from experience and expertise of representatives from various sectors of South-east Asia, the discussion will also highlight ways forward to strengthen partnerships across regional organisations and institutional frameworks to ensure a more cohesive, cooperative, and coherent SDGs policy actions and impacts.