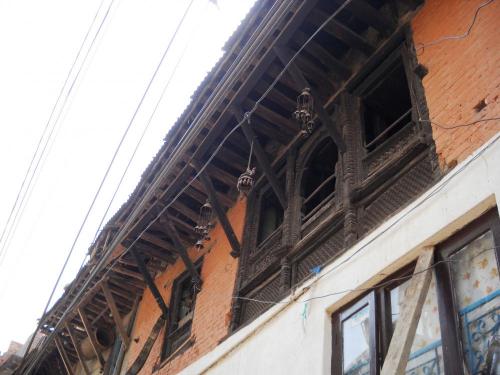 A storyteller in Khokana
A watercolor landscape of an ancient town has stood, framed and frozen, in my home for many years. A poetic translation and rendition of a town in Nepal I have visited just recently ought to spark immediacy, spatially. But, the painting still stands on the whitewashed wall, often forgotten, unlike the town itself. Khokana captured our imagination during a photo yatra and, presently, it is among those areas part and parcel of an equally poetic influence of the devastating  earthquake.
Close to 80 years have gone by since the last occurrence of such high magnitude in Nepal. And yet, Khokana sears memory as beyond time and space. Swathes of tilled land and communities of Newari homes still greet the traveler as they probably have for a very long time. The earthquake of April 25, however, has rendered many homes uninhabitable – broken, empty facades of a dwelling ideal many will think as almost apparitional. The Nepali home is sometimes a mythical entity – earthy tones and materials, comfortable living spaces punctuated by forms of our collective artistic heritage that occasionally leave us pensive.
With the earthquake now an ebb and flow in cerebral measures, how do we repair and restore this ideal? Repicturing Khokana was a trip, a trial and, in many ways, a tribulation. We stopped amidst an over-trodden cobblestone path and wondered if continuity would ever be the same. There is something dire and drastic about many Nepali townscapes – as though one ought to paint, repaint and repicture an ancient tradition, an ancient brick mold simply organized and leveraged. The earthquake certainly did not help. Will Nepal withstand the pressures of reconstruction and remind itself, as it could at any other point in time, that the temporal and spatial sequence are both drawn and lived?