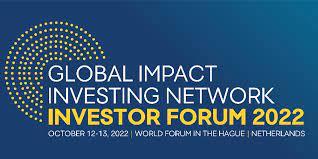 https://www.impactinvestorforum.org/
The largest in-person global gathering of impact investors.
The GIIN Investor Forum is designed to advance and scale the impact investing market by bringing all the crucial elements of the world's impact ecosystem together in one place. Our sessions cut through the noise and go straight to the heart of the industry's most pressing issues. Whether you are a seasoned impact professional or new to the industry, the Forum will have something to offer you.
The GIIN Investor Forum is the largest in-person global gathering of impact investors. The Forum has a strong reputation for presenting delegates with the opportunity to build relationships, discover opportunities, share insights about new strategies, learn the latest industry developments, and explore ways to drive continued momentum and growth in the market.
Impact investing is reshaping the future of financial markets as increasingly people are considering the societal and environmental impact of their investments in addition to their financial returns.
Regeneration
At times, our economic practices can be extractive, inequitable, and destructive to our planet and its people. Yet, investors are in a unique position to improve our economic system in ways that embrace environmental, economic, and social justice. Through investment strategies that ingrain regenerative principles into the decision-making process, we can heal our ecosystems, empower communities, and redistribute wealth and power. Throughout this track, investors will analyze new ways to drive systemic change through approaches like shared ownership, stakeholder partnerships, and restoration, keeping regeneration front and center.
Capital Mobilization
Both institutional asset owners and faith-based asset owners hold a tremendous amount of capital which they are responsible for on behalf of their clients and beneficiaries. To better safeguard their capital for the future, asset owners are looking for ways to understand the real-world outcomes of their investments and set targets for the positive impact they wish to achieve. For asset owners to be able to incorporate an impact lens across their portfolios, the impact ecosystem must lay the proper groundwork for large-scale investment and share successful models that early-movers have implemented in the past. Participants in this track will take part in discussions around how asset owners apply a positive impact lens across their portfolios and achieve the financial targets appropriate to them.
Climate Finance
Last year, the Intergovernmental Panel on Climate Change (IPCC) stated unequivocally that "human influence has warmed the atmosphere, ocean and land." Despite the IPCC's grim declaration, this moment presents investors with an opportunity to lead in addressing the climate crisis. If we are to have any chance of reaching the 2030 and 2050 climate goals, investors must take action and contribute to building a system that reverses the climate harm we have done, leading to a more sustainable energy future. This track will offer investors opportunities to share best practices to scale innovative climate solutions, including nature-based and tech-based solutions, in order to reverse the harmful effects of climate change.
Impact Measurement and Management
In a rapidly evolving market, impact performance data is increasingly necessary if the industry is to scale with integrity. Investors are now dealing with all manner of pressures and incentives demanding accessible, rigorous, and actionable data on impact. However, to create a world that incorporates impact into all investment decisions, investors need access to the right tools and resources in order to build out their impact measurement and management practices. This track's sessions will give attendees the opportunity to dive deeper into the practice of societal and environmental impact measurement. Attendees will also hone their skills related to data collection and reporting, through a hands-on workshop.
The India Impact Investing Showcase
presented by the India Impact Investors Council (IIC)
As the impact industry grows nearly two decades old in India, this track presented by the India Impact Investors Council (IIC) will spotlight India's journey towards becoming a credible impact investing ecosystem with the capacity to create deep social impact with meaningful financial returns. The India Impact Investing showcase will demystify the powerful equation of innovation, capital, and impact by highlighting the journey of Indian impact entrepreneurs across multiple sectors over the last decade. The showcase will demonstrate the potential of cutting-edge disruptive technologies as an effective means of creating deep social impact at scale and illustrate the length & breadth of impact investment opportunities across key themes and asset classes.