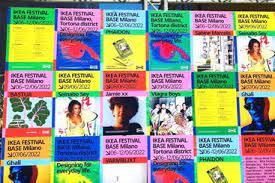 https://odi.org/en/press/press-release-our-collective-future/

Moving between places and across borders is much more than just crossing them. It is a journey of ideas, talent and cultures. This event is dedicated to all people who move, their creativity and talent: an immense, and often untapped potential for all economies and societies

Cities of Growth and Solidarity will hear Mayor Sala of Milan, Italy and Mayor Aki-Sawyerr of Freetown, Sierra Leone, founders of the Africa Europe Mayors' Dialogue, discuss how visionary mayors are working together across the two continents to deliver innovative and practical solutions for sustainable urban futures.

Milan and Freetown are collaborating to create jobs, develop skills and generate investment opportunities for designers and textile manufacturers in both cities, weaving new connections between creative minds and entrepreneurs in the fashion industry across continents.

The event will open with the preview screening of the short artistic documentary by Sierra Leone/British artist Julianknxx On freedom of Movement (wi de muv) – produced in partnership with the fashion label Labrum and ODI.

Data and Design – Making Stories Visible will hear from award winning visual and information designer, Federica Fragapane in conversation with Phaidon Publisher, Emilia Terragni, exploring the relationship between information, data, design and people, to communicate stories of migration and the contribution of migrants and refugees to societies. Fragapane's data visualization for ODI 'Key workers – migrants' contribution to the Covid-19 response', was the winner of Fast Company's 2021 Innovation by Design awards; her most recent work for ODI focuses on perceptions and narratives of immigration 'Hearts and minds: how Europeans think and feel about immigration'.

ODI Europe Executive Director Marta Foresti says: "This important programme of events demonstrates that design and creativity can be drivers of progress and development. The creative skills and talents of those who move is too often an untapped potential that could make a real positive impact on economies and societies."

Marcus Engman, Chief Creative Officer at Ingka Group, IKEA Retail said: "We are not just a company who cares about design, on Friday we are delighted to hand over the stage to IKEA Foundation and UNHCR to hear about the brilliant work that is being done to recognise that refugees bring skills, diversity and different perspectives that benefit business and society."

As part of Fuorisalone 2022, IKEA is at BASE in Milan with its IKEA Festival, a rich line-up of engaging events and experiences that illustrate the future of design, explore how the relationship between people and their homes has evolved and show how it is possible to create a better everyday life for the many people.

--- ENDS ---

For more information, please contact:

ODI

Maggie McNulty (m.mcnulty@odi.org.uk) or Giulia Crossley (g.crossley@odi.org.uk)

Telephone: +44 77 33 29 01 57

Note to Editors:

About The Africa-Europe Mayors' Dialogue

The Africa-Europe Mayors' Dialogue is a platform of African and European mayors working together to deliver innovative and practical solutions for human mobility in and between their cities. The Mayors' Dialogue aspires to a new and equal model of cooperation between Africa and Europe, focusing on the needs of all urban residents and their contribution to economies and societies.

Initiated in 2020, the Dialogue is a city led initiative aiming to create opportunities and improve the lives of all urban residents, including migrants, helping to redress the power imbalances that persist between the two continents. Participating cities currently include Milan, Freetown, Accra, Agadez, Amsterdam, Barcelona, Bologna, Bristol, Dakar, Durban, Entebbe, Grenoble, Helsinki, Kampala, Kanifing, Kigali, Lisbon, Mannheim, Maputo, Montpellier, Monrovia, Paris, Tunis and Zürich.

About ODI

ODI is an independent, global think tank. We work to inspire people to act on injustice and inequality. Through research, convening and influencing, we generate ideas that matter for people and planet. We lead thinking and agendas to deliver transformational change and bring about a global sense of resilient, just and equitable prosperity.

About the IKEA Foundation

The IKEA Foundation is a strategic philanthropy that focuses its grant making efforts on tackling the two biggest threats to children's futures: poverty and climate change. It currently grants more than €200 million per year to help improve family incomes and protect the planet from climate change. Since 2009, the IKEA Foundation has granted more than €1.5 billion to create a better future for children and their families.

In 2021 the Foundation decided to make an additional €1 billion available over the next five years to accelerate the reduction of Greenhouse Gas emissions.

 

Position:
Co -Founder of ENGAGE,a new social venture for the promotion of volunteerism and service and Ideator of Sharing4Good