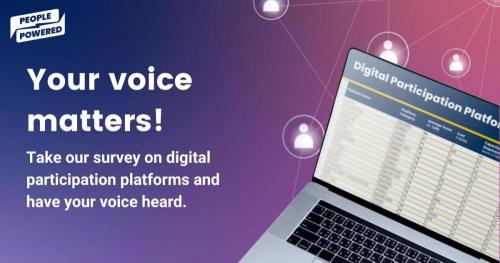 https://www.peoplepowered.org/news-content/take-our-survey-on-digital-pl...
DEADLINE: November 22, 2023
For the past two years, our expert committee has reviewed and evaluated dozens of digital participation platforms, using input from hundreds of users in countries around the world, along with platform developers. These ratings have not only helped users select the right tools to suit their needs, they've also provided valuable insights for developers to improve their platforms. 
Now, we're gearing up for the next round of evaluations of digital participation tools, and we need your input! Take our user or developer survey and share your thoughts, experiences and suggestions.
The survey is short and easy to complete, and should take no more than 10 minutes of your time. Your responses will help us to better understand your experiences with digital participation tools and help our experts in the rating process. 
ABOUT PEOPLEPOWERED
We build the power and impact of organizations and leaders around the world who are building a more participatory democracy, through programs such as participatory budgeting, participatory policy-making, participatory planning, and citizen assemblies. We're like a global union for participatory democracy workers.
We began to grow the organization in 2019, launching a Global Participatory Budgeting Hub as a fiscally sponsored initiative of the Participatory Budgeting Project, a nonprofit organization in the United States. In 2020, 58 participatory democracy leaders from 28 countries engaged in a planning process to build out the Global PB Hub into a new and broader organization. They decided on the mission, vision, values, and commitments below, along with our name and work priorities