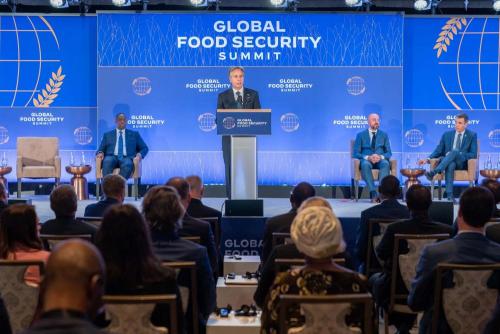 http://sdg.iisd.org/commentary/guest-articles/fao-report-paints-a-bleak-...
The leaders of Spain, the US, the African Union (AU), the EU, Colombia, Germany, Indonesia, and Nigeria co-hosted a summit to catalyze global action to advance global food security. The leaders sought to identify sustainable solutions to provide immediate relief and strengthen agriculture resilience.
The Leaders' Summit on Global Food Security convened on 20 September 2022, on the sidelines of the 77th session of the UN General Assembly (UNGA), to address the global food security crisis, exacerbated by climate change, the COVID-19 pandemic, high energy and fertilizer prices, and conflicts, including the war in Ukraine, with more than 765 million people around the world going chronically hungry in 2021. 
In a declaration issued at the conclusion of the Summit, the leaders affirm their commitment to respond to the urgent food security and nutrition needs across the globe. To that end, they commit to strengthen international cooperation and partnerships between the UN and regional and sub-regional organizations and civil society organizations (CSOs).
The leaders underscore the need to "act with sustained urgency and in coordination … to respond to immediate humanitarian needs and build more resilient agriculture and food systems" by:
Making new, additional financial donations to key humanitarian organizations to allow for an increased provision of humanitarian assistance;
Providing in-kind donations and "necessary associated costs" to key humanitarian organizations for transportation and delivery of food commodities based on assessed needs by affected countries or humanitarian organizations;
Keeping food, fertilizer, and agricultural markets open and avoiding unjustified restrictive measures, such as export bans;
Supporting an increase of fertilizer production, accelerating and scaling up fertilizer innovations, supporting their marketing, and promoting methods to maximize fertilizer efficiency;
Accelerating efforts to support sustainable agriculture and food systems, through strengthening agricultural productivity and resilience and supporting a just and equitable energy transition;
Increasing investments in research and technology to develop and implement science-based and climate-resilient agricultural innovations; and
Monitoring markets affecting food systems to ensure full transparency and to share reliable anDeclaration of Leaders' Summit on Global Food Security
The meeting built on the outcomes of the 2021 UN Food Systems Summit, the Roadmap for Global Food Security – Call to Action, issued following a Global Food Security Ministerial Meeting on 18 May 2022 and endorsed by more than 100 UN Member States, and the outcomes of the June 2022 G7 Summit. [Declaration of Leaders' Summit on Global Food Security] [US State Department Release]