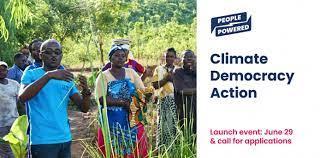 https://www.peoplepowered.org/news-content/do-you-want-to-launch-a-parti...
The climate crisis demands fast and ambitious action. By bringing the public into decision-making, governments can make tough choices together with their constituents to create policies that are more equitable and responsive to their local needs.
If you want to be a leader in using participatory strategies to manage your government's response to the climate crisis, the Climate Democracy Action (CDA) program is for you. CDA is an intensive, practice-oriented training and support program that will prepare you to plan and implement an inclusive, equitable, participatory process for a just climate transition. The program is a collaboration between People Powered, World Resources Institute and FIMA, with funding support from Porticus.
Over the course of six months, participants will receive action-oriented training; a dedicated, expert mentor; and peer-learning opportunities to develop an action plan to launch a climate-focused participatory program. They will get first access to the new, interactive Participation Playbook, to walk them through the planning process step by step.  Participants will complete a fully developed action plan for a climate-focused participatory program, and be awarded a certification in Climate Democracy Action.
We will select two of the action plans to receive an implementation grant: (1) the best overall plan and (2) the best plan to be implemented in the sub-Saharan region. Each team will receive a grant of $20,000 USD.
Spread the word, and register for the June 29 CDA launch event to learn how it can support your work.
Who is the Climate Democracy Action program for?
We will select 40 advocates and policymakers seeking to launch a participatory program for climate action to receive free training, mentorship, and peer support. This includes:
Members of civil society organizations or coalitions who are supporting or advocating for public participation, democracy, and climate action.

Local government staff, officials, and policymakers seeking to implement a participatory program for climate action.
Who is eligible for the $20,000 USD award?
Applicants interested in the award must meet additional eligibility criteria:
Be from a civil society organization or coalition engaged with a local government authority that wants to implement or improve a participatory program for climate action.
OR

Be from a local government authority receiving the support of a civil society organization that can be the grant recipient.
How much time must participants dedicate to the program?
Participants can expect to spend an average of two hours per week from September 2022 to March 2023.

They must set aside a few key dates on their calendars to participate in the program's live sessions.
What is the timeline?