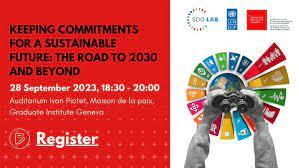 https://www.graduateinstitute.ch/communications/events/keeping-commitmen...
On 18 and 19 September 2023, world leaders will gather in New York for the Sustainable Development Goals (SDG) Summit to assess the degree of action required to fulfill the ambitious targets of the 2030 Agenda. In order to meet the 2015 commitments made by UN member states, the SDG Summit "must deliver a rescue plan for people and planet," as implored by the UN Secretary General António Guterres. Will the UN Secretary General's call for accelerated, transformative action be heard? Will governments as well as international organisations, the private sector, and civil society regain hope and take concrete steps to enact a more equal and sustainable future? 
In this post-SDG summit event, three students from leading universities in Switzerland will have the opportunity to put four leaders from International Geneva in the hot seat and probe them on how their institutions are stepping up to get the SDGs back on track. 
 
Monique Beerli, Senior Lecturer at the University of Geneva, will moderate this discussion with : 
Özge Aydoğan, Director, SDG Lab, UN Geneva
Haore Burhan, Master's student in International and Development Studies, Geneva Graduate Institute
Antonio Gambardella, Director, Fongit
Rosendo Mañas Faura, Master's student in Microengineering, École polytechnique fédérale de Lausanne
Ines Morales Wyden, Double Degree Master's student in European Affairs and International Affairs, Sciences Po Paris and the University of St. Gallen
Agi Veres, Director, UNDP Representation Office, Geneva
Matthew Anthony Wilson, Permanent Representative of Barbados to the United Nations Office at Geneva