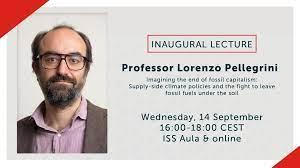 About Lorenzo Pellegrini's research
https://www.iss.nl/en/events/inaugural-lecture-lorenzo-pellegrini-2022-0...
His research interests include the socio-environmental impact of extractive industries, environmental justice, impact evaluation, institutions and corruption.
He has led and participated in a number of research and capacity building projects in the Global South. He teaches courses on research methodology, development economics, development theory, sustainable development, and ecological economics.
Date
Wednesday 14 Sep 2022, 16:00 - 18:00
Type
Inaugural lecture
Spoken Language
English
Room
Aula B and via livestream
Location
International Institute of Social Studies