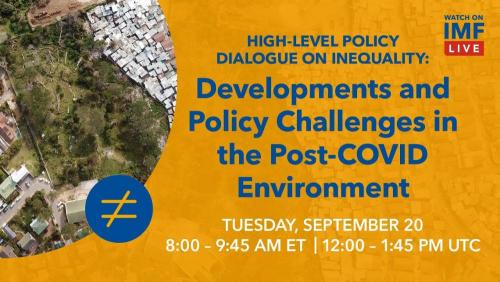 https://www.imf.org/en/News/Seminars/Conferences/2022/09/20/high-level-p...
The COVID-19 pandemic has caused an acute health and economic crisis, exacerbating income inequality all over the world. The food and fuel price shock following the Ukraine war is adding to the difficulties. These shocks and developments are particularly worrisome for sub-Saharan Africa, one of the most unequal regions pre-pandemics and the least capable to cushion the effects of the crisis on the most vulnerable. Our IMF Policy Dialogue on Inequality will focus on these latest developments; the potential policy responses; and their implementation in a very complex and tight policy environment. The event will have a focus on Sub-Saharan Africa, with discussions about the Latin America responses.
MF – AFR & ATI High Level Policy Dialogue on Inequality:
Developments and Policy Challenges in the Post-COVID environment
September 20–21, 2022
Biographies of Participants
Day 1. Inequality– Trends and Macroeconomic Challenges
A. Trends and Drivers in Inequality in the World/LICs
LSE | Professor Francisco H. G. Ferreira is the Amartya Sen Professor of
Inequality Studies at the London School of Economics, where he is also
Director of the International Inequalities Institute. Francisco is an economist
working on the measurement of causes and consequences of inequality and
poverty in developing countries, with a special focus on Latin America. He is
also an Affiliated Scholar with the Stone Center at the City University of New
York; a non-resident Research Fellow at the Institute for the Study of Labor
(IZA, Bonn); and currently serves as President of the Latin American and
Caribbean Economic Association (LACEA). Prior to joining the LSE,
Francisco had a long career at the World Bank, where his positions included
Chief Economist for the Africa Region and Senior Adviser in the Research
Department. He has also taught in the faculties of Economics at the
Pontifícia Universidade Católica do Rio de Janeiro and at the Paris School
of Economics.
B. Zooming in on Sub-Saharan Africa: Inequality Developments and Description of Policy
Responses in the Region
Ghana | Prof. Robert Darko Osei is an Associate Professor in the Institute
of Statistical, Social and Economic Research (ISSER), University of Ghana,
Legon, and the Vice Dean for the School of Graduate Studies at the
University of Ghana. Robert has published widely in edited volumes and top
international journals. His main areas of research include evaluative poverty
and rural research, macro and micro implications of fiscal policies, aid
effectiveness and other economic development policy concerns. He is
currently involved in a number of research projects in Ghana, Niger, Burkina
Faso and Mali.
2
Oxfam | Mr. Peter Kamalingin B.L is the Pan Africa Director, Oxfam
International. A Ugandan with over 20 years' experience in social justice
struggles, development Policy analysis, humanitarian planning & Conflict
management. Practicing farmer in eastern Uganda. Promotes pan African
narratives and perspective to development, many of which he has
represented in various regional and international fora. He Holds an MA in
International Relations (UoN, Nairobi), MA Peace & Conflict Studies (EPU,
Austria), BA Political Science & Public Administration (MUK, Kampala). His
favorite pastime is keeping bees, tending to nature and building people
relations.
C. Discussant
World Bank | Ms. Gabriela Inchauste is a Lead Economist in the Poverty
and Equity Global Practice of the World Bank. She is currently a global lead
for the Equity Policy Lab, assisting poverty teams across the Bank with
distributional analysis of fiscal policy, climate change and climate action.
Her regional work is focused on Western Africa, having previously worked in
Latin America and Eastern Europe. Her research interests include the
distributional impact of fiscal policies, ex-ante analysis of the distributional
impacts of policy reforms and understanding the channels through which
economic growth improves labor market opportunities for poverty reduction.
Prior to joining the Bank, she worked at the International Monetary Fund
and the Inter-American Development Bank where she contributed to
operational and analytical activities. She has published articles in academic
volumes and journals on fiscal policy, the distributional impacts of taxes and
social spending, the political economy of subsidy reform, the determinants
of informality, and the role of remittances in developing countries. A Bolivian
national, she holds a Ph.D. in economics from the University of Texas at
Austin.
 
Day 2. Inequality– High-level Policy Dialogue on Policy Responses and
Next Steps
Session 1. Latin America's Experiences Reducing Inequality
GIGA | Prof. Dr. Merike Blofield is since 2020 Director of the Institute for
Latin American Studies at the German Institute for Global and Area Studies
(GIGA), and Professor of Political Science at the University of
Hamburg. Prior to that, she was Professor of Political Science and Director
of Gender and Sexuality Studies at the University of Miami, where she
received the 2019 May Brunson Award for doing the most to improve the
status of women. Prof. Blofield has published widely on policy areas that
intersect social, gender, labor, health, and family policy, with a focus on
Latin America. She is currently working on three collaborative, inter-
disciplinary research projects: first, on the politics of social protections;
3
second, survey research on public opinion toward social protection; and
third, measuring policy efforts on domestic violence in Latin America.
Brazil | Mr. Tiago Falcao Silva has served in several positions at the
Brazilian government such as head of the National Secretariat of Income
Citizenship, in charge of the Bolsa Familia Program. In 2012, he assumed
the mission of coordinating the ambitious Brazil without Extreme Poverty
Plan. In 2016 he was nominated, for the second time, National Secretary of
Citizenship Income. Under his leadership, the Bolsa Familia Program
reached 14 million families and was recognized as one of the best targeted
in the world. He was also Secretary of Management of the Ministry of
Planning, and Social Advisor at the Presidential Civil Cabinet, and worked at
the Secretariat of Human Rights, and at the Ministries of Social Insurance
and Labor. Currently he is a World Bank consultant focusing on social
protection and jobs issues in Brazil and in LAC countries.
Session 2. Sub-Saharan Africa Experiences Reducing Inequality
Senegal | Mr. Abdou Diouf is currently Principal Inspector of the Treasury
and Coordinator of the Studies and Planning Unit of the Ministry of Finance
and Budget of the government of Senegal. He also sits on the Regional
Council for Public Savings and Financial Markets (CREPMF) of WAEMU on
behalf of the Ministry of Finance and Budget. Between 2016 and 2018, he
was Head of the Economic Studies and Statistics Division within the
General Directorate of Public Accounting and the Treasury, from where he
piloted in 2017 the statistical component of public finances (SFP) of the
Senegal's adherence to the IMF's Special Data Dissemination Standard
(SDDS). Since 2017, he has been a short-term expert with the IMF on
Public Finance Statistics and has carried out several technical assistance
missions in WAEMU and CEMAC countries.
Togo | H.E. Cina Lawson is the Minister of Digital Economy and
Transformation of Togo. Drawing from her over 15 years of experience and
expertise in telecommunications policy and regulation, she is leading Togo
through a profound transition to an inclusive digital economy. Lawson began
her career at the World Bank in Washington, DC where she worked on
telecom restructuring projects in developing countries focusing on regulatory
reforms. She went on to become a Manager of Corporate Strategy and
Business Development at the Orange Group in New York City, and later at
Alcatel-Lucent in Paris. Her initiatives as minister have included diversifying
private participation in the telecoms sector, spearheading regulatory reforms
for data protection and electronic transactions, setting up an innovation hub
as well as pushing for the deployment of high-speed fiber broadband to link
key institutions, including all public universities in the country. She is a
fervent advocate of innovative solutions to Africa's developmental
challenges and sits on the advisory board of the Digital Identity, Trade and
Economy Initiative of the United Nations Economic Commission for Africa.
4
Mozambique | Ms. Olivia Faite is the Head of the Department of Social
Assistance Programs at the National Institute of Social Action - INAS, IP of
the Government of Mozambique and the focal point the Mozambique's
Community of Practice on Cash Transfer Programs. She is an expert in
social protection and has worked in this area for more than 15 years. She
was formerly a professor and university assistant at the Higher Institute of
Science and Technology of Mozambique and the São Tomás University of
Mozambique and at the Eduardo Mondlane University. She has a degree in
Sociology from the Pontifical Catholic University of Minas Gerais- PUC-
MINAS- Belo Horizonte- Brazil.
Rwanda | Mr. Samuel Dusengiyumva is the Permanent Secretary of the
Ministry of Local Government in Rwanda. He is the Accounting Officer and
chief technician of the Ministry. In this capacity he ensures technical
supervision of all activities of various departments in the Ministry and
affiliated agencies as well as coordination of local Government technical
teams. Prior to that, he worked for the Ministry of Public Service and Labour
as the Coordinator of the Single Project Implementation Unit and has served
in the Regional Centre on Small Arms and Light Weapons (RESCA)-Nairobi
as the Legal Advisor. He has also worked with the One Laptop Per Child
(OLPC), as the Regional Director for Africa and then Country Manager
partners such as NGOs and Civil Society Organizations as well as the
private sector