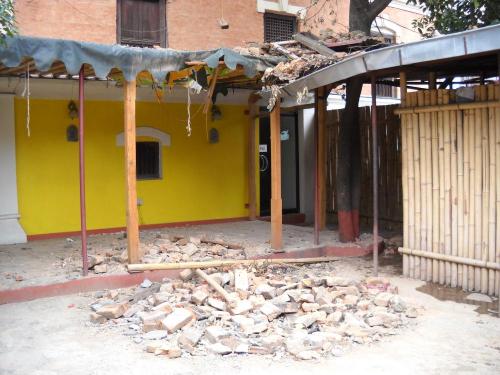 The Great Earthquake of April 2015: Returning Thoughts and Aftershocks
I stumbled into Bricks Café a year ago for an official event. Celebrating a magazine's tenth anniversary is a joyous occasion and the drum beats seemed omnipresent for a while. Spaces Magazine had made that quantum leap (of time) and I was a happy coincidence. Well, mostly. I stumbled into the Café  many times after the anniversary event – found balmy shade, a retrofitted Nepali showcase in which to meet friends and family, a getaway and, of course, the comfortable ease that is a necessary condiment of free wifi.
April 25 and the days and events that followed it shook Nepal in a way that was unimaginable. We have all, admittedly, heard of the "nabbe sal ko bhuinchalo" – fearsome as it had sounded to every Nepali ear even as a story, we rarely thought much of our own experiences of and in earthquakes. The inevitability of the next big one was a part of casual conversation, tinged with references from sources that make us all feel inaccurate and probably always will.
Summoning all the courage I could muster, I walked towards Bricks again a few days after April 25. I felt like the world had changed forever just standing at the entrance. The Café stood, sparse and skeletal, as a surreal reminder that this was an inescapable part of the past, present and future of Nepal. My world had changed - some parts in the hinterlands were now shards of their former selves. The tented city is our reality and, given the magnitude, we had found safety through and in a spatial format most consider quite untimely. Design had reinvented itself and function was everything.
The slow, imagined, hyper-real collapse of our structured and structural paradigms had momentously morphed into a terrifying crash. I stood outside Bricks Café and wondered how much of it had withstood the great test that earthquakes tend to become in mortal minds. As far as similes go, the bricks were there – structured, broken, timeless and vulnerable. The wall debris was being put away by my fellow earthquake refugees, a few bits of design was shockingly dismantled. My shaded spot of choice was and will remain, even just to me, a spatial moment now etched with reverberations and so much more. The suddenness of the earthquake too had now melded with the calm, still immutability of this very moment and place.