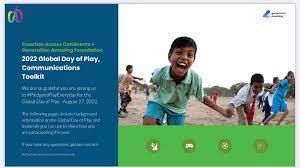 https://www.sportanddev.org/en/event/global-day-play-2022
We are excited to remind you that it is less than a month until the second annual Global Day of Play on 27 August! The Global Day of Play is designed to create a positive, safe space for people of all ages and abilities to celebrate the positive impact of play on our everyday lives. Yes, that includes adults too!
Last year, the inaugural Global Day of Play, led by Coaches Across Continents in partnership with our global collaboration of programs, was celebrated by almost 1.5 million participants in 42 countries. For 2022, our hope is to increase that number and continue to celebrate the positive impacts play has for everyone. This year, we ask communities, organizations, and anyone else who wants to participate to dedicate one hour to play on or around Saturday, 27 August.
Research shows play is necessary for the development of human's social, emotional, and interpersonal skills. With young people's influence growing in our society, providing opportunities to play is one of the easiest ways to best support the growth of the next generation of young people.

Throughout August, we will be sharing a Global Day of Play toolkit, social media promotions and some run up events in countries around the world. We'd love to know how you are taking part this year - please tag @coachesacross on social media and use the hashtag #PledgetoPlayEveryday. Take a look at the attached toolkits to find out how you can participate and celebrate!
We look forward to celebrating play with you and millions of other people around the world on 27 August.
For more information please contact jamiet@coachesacrosscontinents.org