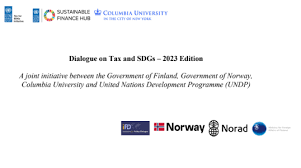 https://giescr.org/en/our-work/on-the-ground/gi-escr-present-at-the-dial...
A joint initiative between the Government of Finland, the Government of Norway, Columbia University and the United Nations Development Programme (UNDP)
Our Executive Director attended the Dialogue from 14-17 November 2023, a pivotal midpoint of the 2030 Agenda. GI-ESCR promotes the realisation of human rights as a fundamental objective of fiscal policy. We promote a series of standards to inspire transformative action that renews the fiscal pact between the State, citizens and companies.
Taxation stands at the forefront of achieving the Sustainable Development Goals (SDGs). Tax systems can drive sustainable development, fortify social contracts, and directly influence key SDGs related to health, climate, and good governance.
Building on its 2022 edition, the Dialogue aimed to deepen understanding of the complex relationship between tax and SDGs. This platform brought together global policymakers, administrators, diplomats, thought leaders, and emerging talents from across the globe for bold dialogues and actionable solutions to forge interdisciplinary approaches to tax and explore innovative tax measures that can drive sustainable development.
It delved deeper into the strategic role of tax policies and administration in building fairer societies supported by efficient, just and robust tax systems. It tackled pressing issues such as climate financing, privatization of tax administration, intergenerational debt impacts, and harnessing tax measures for SDG financing.
The Dialogue also spotlighted the transformative power of taxation in economic and social spheres, underscored the necessity for transparency and accountability, and discussed the crucial role of media in garnering political support for SDG-oriented taxation.
More information, including a recording of each day, is available here



A world in which every person and community lives in dignity and in harmony with nature.

To transform power relations to enable every person and community to enjoy their ESC rights and all other human rights now and in the future.