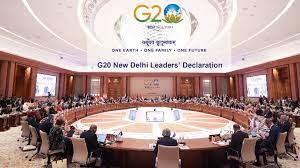 https://business-humanrights.us3.list-manage.com/track/click?u=bdd1a6a40...
Commitments from the world's largest economies to increase efforts to eliminate forced labour and child labour along global value chains and support migrants, including migrant workers and refugees, faced criticism from CSOs for not going far enough.

The announcement was made at the annual G20 summit, held in New Delhi over the weekend. But the Peoples' 20 platform said it did not provide a 

clear roadmap to tackle rising economic inequality, climate crisis, hunger and energy crisis

 and criticised its undue emphasis on the role of the private sector in economic development. The Peoples' 20 said: 'We notice the absence to a reference on ongoing efforts in several G20 countries and regions (EU and AU) for due diligence laws for global value chains and the ongoing negotiations for a binding treaty on business and human rights.'

Prior to the New Delhi Summit, the Peoples' 20 Indigenous and local community representatives collaborated with BHRRC and Growthwatch 

to create a set of recommendations for world leaders and officials attending G20

, calling for support for and increase in community-owned renewable energy projects, with community equity share of 50:50 and above; G20 governments to enact mandatory human rights and environmental due diligence legislation; and G20 governments to ensure effective participation of Indigenous Peoples in National Action Plans and Net Zero plans.