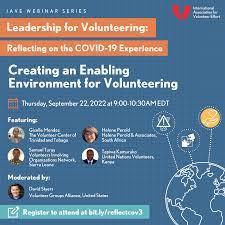 https://us06web.zoom.us/webinar/register/WN_DDeL46WeRFmKh5ayLPPmdg
https://www.iave.org/about-iave/
In the final installment of the Leadership for Volunteering: Reflecting on the COVID-19 Experience webinar series, we will seek to explore the importance of creating an enabling environment for volunteering, the key components required and the challenges in making this happen. We will examine how providing a supportive environment for volunteering creates real opportunities for citizens to get involved in creating positive change within their communities.

The session will consider the relationships between government and civil society and how this can help or hinder volunteer engagement and development. It will also explore how partnership and collaboration can be a catalyst for enabling volunteering to flourish, discussing what the future priorities should be to enhance the global development of volunteering.
Tapiwa Kamuroko
United Nations Volunteers Programme, Kenya
Helene Perold
Helene Perold & Associates, South Africa
Giselle Mndez
The Volunteer Center of Trinidad & Tobago
Samuel Turay
Volunteers Involving Organization Network, Sierra Leone
David Styers
Volunteer Groups Alliance,
United States
About the Series:
In this webinar series we will examine three key volunteering topics highlighted by IAVE's research regarding the experience and response of leadership for volunteering organizations during the pandemic. An accompanying briefing paper for each of the sessions will both reflect on evidence gathered from the research and inform future volunteering operations and practice. The corresponding briefing paper for this session will be email to you upon registration.
About IAVE
IAVE creates a more just and sustainable world by enabling the leaders, organizations, and environments that empower volunteers. At IAVE, we know that when people get involved in their communities, things change for the better.The estimated 1 billion people worldwide who volunteer each year create a collective expression of civic engagement that builds community cohesion and resilience that is fundamental to making a better life for us all.
We believe that volunteer leaders, be they individuals or organizations, are critical to supporting, valuing, and developing volunteering at the national and regional levels. They are the convenors of myriad local organizations in the communities they serve, harnessing the power for collective action, and promoting the role of volunteering at the local and societal level. These leaders – and volunteers in general – are the world's advocates, activists, and change-makers. Our renewed mission centers on ensuring that volunteers are safe and supported in their work and allowed to become recognized as legitimate and important actors in achieving a just and sustainable world.