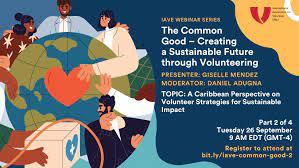 https://www.iave.org/event/the-common-good/
Presenter: Giselle Mendez, Volunteer Centre of Trinidad & Tobago, Trinidad & Tobago
Moderator: 

Daniel Adugna, Acting Head Youth Division – Youth Policy & Inclusion Portfolio, The African Union Commission
Topic: A Caribbean Perspective on Volunteer Strategies for Sustainable Impact
September 26, 2023 at 9:00-10:00am EDT (GMT-4)
Giselle Mendez is Founder and Managing Director of the Volunteer Center of Trinidad & Tobago (VCTT) and is working to eliminate wasted human capital. Giselle inspires the best minds to volunteer their time to tackle the most pressing development challenges and mobilizes international networks and resources to escalate Caribbean volunteering. Through online volunteering, organisations like VCTT have been able to convene and manage large numbers of volunteers to reach those most at risk of being left behind. The VCTT team is unveiling the emerging role technology and artificial intelligence can play in scaling the reach and impact of volunteers.
The conversation with Giselle will be led by our guest moderator, Daniel Adugna, Acting Head Youth Division – Youth Policy & Inclusion Portfolio, The African Union Commission. Daniel has served as Program Manager of the African Union Youth Volunteer Corps (AU-YVC), a continental youth leadership program which works with young African professionals through volunteerism and exchange across Africa. He brings over ten years of experience in continental program management and policy development, working with the African Union Commission and other International Organizations. He brings on board program development, implementation and monitoring skills, policy development, international relations and youth development expertise combined with continental-level perspectives.
Background and Context
In 2022 the 26th IAVE World Volunteer Conference held in Abu Dhabi had the theme of 'Volunteering for the Common Good: Making Life Better for People and Communities'. This theme resonated with the United Nations International Volunteer Day (IVD) 2022 – solidarity through volunteering. The United Nations Volunteers, the agency that coordinates IVD on the 5 December annually, stated in 2022 that 'rising inequalities throughout the world implore that we need to work together to find common solutions. Volunteers drawn together by solidarity, develop solutions to urgent development problems and for the common good.' IAVE recognizes and commends the efforts and impact that volunteers and volunteering organizations are making every day to encourage, enable and empower individuals to take action for the common good.
In 2024 the 27th IAVE World Volunteer Conference will take place in Busan, South Korea from 22 – 25 October 2024. The theme for the conference is 'People Power: Creating a Sustainable Future through Volunteering' and will use some of the United Nations' Sustainable Development Goals as a framework for discussion. In terms of the global impact of volunteering, the UN has indicated that their 17 global Sustainable Development Goals (SDGs) cannot be delivered without the involvement of volunteers. These goals are concerned with the key issues challenging our world such as eradicating poverty, fighting inequality and injustice, and tackling climate change. The SDGs are universal and inclusive, they are about a planet and its people, and they express a commitment to delivering common good for all.
The UN has stated that 'a sustainable future is one that meets the needs of the present without compromising the ability of future generations to meet their own needs.' In working towards sustainability for the planet we are seeking to reduce our carbon footprint, protect our natural resources, and promote social equity and justice. What we realise is that achieving a sustainable future requires collective commitment and action, it takes everyone to be involved, this includes governments, corporations and civil society organizations, most importantly it requires individuals to affect the change we want and need to deliver. The 'People Power' of volunteers has never been more relevant or necessary.
IAVE is very aware as we move towards the 27th World Volunteer Conference that the theme of 'People Power: Creating a Sustainable Future through Volunteering' not only recognises and celebrates the involvement and impact of volunteers in tackling issues of sustainability across the world it also raises vital questions about how we continue to sustain and grow volunteering within a global context where the social dynamics seem to be ever more fluid, and change is the only constant. In 2022 IAVE published a briefing paper that referred to the 'constellation of crisis' in the post pandemic environment and set out six global trends in volunteering Future Trends in Volunteering – Exploring Synergies Across Research From IAVE, Forum and UN Volunteers.
As the 27th World Volunteer Conference focuses on the future landscape of and for volunteering this webinar series will continue to inform IAVE's ongoing review of the current Universal Declaration for Volunteering, https://www.iave.org/advocacy/the-universal-declaration-on-volunteering/ an updated declaration is to be launched at the 2024 conference.
This 4-part webinar series will be made up of opinion pieces where invited presenters, two academics and two practitioners, set out their views on what volunteering for the common good means to them. The presenters will touch on how this relates to creating a sustainable future through volunteering and how volunteers contribute to tackling the challenges facing our communities and our world. Each presenter will focus on one or two of the SDGs that are important to them either in terms of their academic research and/or through their work within communities. They will also share, in their opinion, what we need to do to create an environment that allows volunteering to flourish and have impact.
Each session will have a single presenter sharing their experience and knowledge, followed by a moderated discussion with questions from the audience.
September 5, 2023 – Dr Jacob Mwathi Mati, Centre on African Philanthropy & Social Investment, Wits Business School, South Africa
September 26, 2023 – Giselle Mendez, Volunteer Centre of Trinidad & Tobago
October 10, 2023 – Dr Bianca Fadel, Northumbria University
November 7, 2023 – Colin Rogers, Plan International