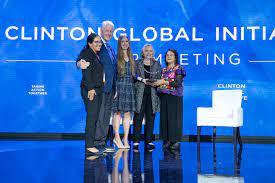 About the Clinton Global Initiative
https://www.clintonfoundation.org/press-and-news/clinton-global-initiati...
Founded by President Bill Clinton in 2005, the Clinton Global Initiative is a community of doers representing a broad cross section of society and dedicated to the idea that we can accomplish more together than we can apart.  Through CGI's unique model, more than 9,000 organizations have launched more than 3,900 Commitments to Action — new, specific, and measurable projects and programs.
 CGI 2023 will begin Monday at 9:15 AM ET with a special conversation between President Clinton and His Holiness Pope Francis via remote link, on what it takes to keep going on the most pressing global challenges of our time like climate change, the refugee crisis, the welfare of children, and the mission and projects of the Bambino Gesù Children's Hospital. Programming announced today includes a fireside chat with Secretary Clinton and U.S. Secretary of the Treasury Janet L. Yellen; a session on freedom of the press highlighting Wall Street Journal reporter Evan Gershkovich's detention in Russia; as well as programming featuring Prime Minister Mia Mottley of Barbados, Alphabet and Google President, Chief Investment Officer and Chief Financial Officer Ruth Porat, NBA Hall of Famer, Entrepreneur, Producer, and Philanthropist Dwyane Wade, and many others.
The schedule for CGI 2023, including plenary and spotlight sessions, can be found at www.clintonglobal.org/2023.
Launched by President Clinton in 2005, CGI has built a community of doers who are taking action to make a tangible difference in people's lives around the world. CGI works with partners to develop Commitments to Action, which are new, specific, and measurable solutions. Since 2005, more than 3,900 Commitments to Action have been launched through CGI. In a letter this summer to the CGI community, President Clinton, Secretary Clinton, and Chelsea Clinton said this year's meeting would focus on how to "keep going" – in spite of the difficulties that arise – to build a stronger future for all.
Today's announcement includes featured participants, as well as a special session on freedom of press highlighting Wall Street Journal reporter Evan Gershkovich being held in Russia for more than 160 days, and reporters around the world contending with threats and violence – exploring how to provide support for members of the press in crisis, and announcing new efforts to protect and support journalists across the globe.
Participants for CGI 2023 announced today include His Holiness Pope Francis; Janet L. Yellen, U.S. Secretary of the Treasury; Irfaan Ali, President of Guyana; Charlotte Alter, National Correspondent, TIME Magazine; Sophie Beren, Founder and CEO, The Conversationalist; Tony Blair, Former Prime Minister of Great Britain and Northern Ireland, and Executive Chairman, The Tony Blair Institute for Global Change; Jeanne Bourgault, President and CEO, Internews; Sultan Ahmed bin Sulayem, Group Chairman and CEO, DP World; Jonathan Capehart, Associate Editor, Washington Post; Keely Cat-Wells, Founder and Chief Executive Officer, Making Space; Jodie Ginsberg, President, Committee to Protect Journalists; Aidan Gomez, CEO and Co-Founder, Cohere; Deb Haaland, U.S. Secretary of the Interior; Almar Latour, CEO, Dow Jones and Publisher, Wall Street Journal; Mia Mottley, Prime Minister of Barbados; Gavin Newsom, Governor, California; Dana Perino, Co-Anchor of America's Newsroom and Co-Host of The Five on FOX News Channel, and former White House Press Secretary; Ruth Porat, President, Chief Investment Officer, and Chief Financial Officer of Alphabet and Google; Jen Psaki, Host of "Inside with Jen Psaki" on MSNBC, and former White House Press Secretary; Jason Rezaian, Global Opinions Writer and former Tehran Bureau Chief, Washington Post, Christy Turlington Burns, Founder & President, Every Mother Counts; Patricia Velasquez, President and Founder, The Wayúu Taya Foundation; Dwyane Wade, NBA Hall of Famer, entrepreneur, producer, and philanthropist; and Gretchen Whitmer, Governor, Michigan.
To apply for media credentials, please visit clintonglobal.org/2023mediaregistration.
Previously announced participants at CGI 2023 include Noubar Afeyan, Founder and CEO, Flagship Pioneering; Co-Founder and Chairman, Moderna; José Andrés, Founder and Chief Feeding Officer, World Central Kitchen; Ajay Banga, World Bank President; Orlando Bloom, UNICEF Goodwill Ambassador; Albert Bourla, CEO, Pfizer; Jesper Brodin, Chairman and CEO, INGKA Holding; Jason Buechel, CEO, Whole Foods; Miguel Cardona, U.S. Secretary of Education; Matt Damon, Co-Founder, Water.org; Daniels, Daniel Kwan and Daniel Scheinert, Directors/Writers/Producers; Philip E. Davis, Prime Minister, The Bahamas; Patrick Dempsey, Actor, Producer, Founder and Board Member of The Dempsey Center; Tony Elumelu, Founder and Chair, The Tony Elumelu Foundation; Michael J. Fox, Founder, The Michael J. Fox Foundation for Parkinson's Research; Ilan Goldfajn, President, Inter-American Development Bank; Filippo Grandi, United Nations High Commissioner for Refugees; Maura Healey, Governor, Massachusetts; Kathy Hochul, Governor, New York; Ashley Judd, Author and Goodwill Ambassador, UNFPA; Karlie Kloss, Entrepreneur and Founder of Kode With Klossy; Padma Lakshmi, Host/Executive Producer of Hulu's Taste the Nation, Writer, and UNDP Goodwill Ambassador; Lorenzo P. Lewis, Founder, the Confess Project; Cindy H. McCain, Executive Director of the World Food Programme; Tjada D'Oyen McKenna, CEO, MercyCorps; David Miliband, President and CEO, International Rescue Committee; La June Montgomery Tabron, President and CEO, W.K. Kellogg Foundation; Wes Moore, Governor, Maryland; Ngozi Okonjo-Iweala, Director-General, World Trade Organization; Ai-jen Poo, President, National Domestic Workers Alliance; J.B. Pritzker, Governor, Illinois; Noel Quinn, CEO, HSBC; Catherine Russell, Executive Director, UNICEF; Liev Schreiber, Co-Founder, Blue Check Ukraine; Simon Stiell, Executive Secretary, United Nations Framework Convention on Climate Change; Darren Walker, President, Ford Foundation; Ai Weiwei, Artist; will.i.am, President & Founder, i.am Angel Foundation; and more.
The CGI 2023 Meeting includes unique programming and opportunities for participants to connect, build partnerships, and take action, including:
CGI Greenhouse, a program launched in 2022 that directly connects entrepreneurs with partnership and scaling opportunities (read about the CGI 2023 Greenhouse lineup here);
The CGI Story Studio, another program that launched in 2022 that inspires action through stories of frontline leaders and lived experiences (read about the CGI 2023 Story Studio lineup here);
Unique networking and experiential activations with i.am. Angel Foundation, Northshire Books, Pioneer Works, (RED), World Central Kitchen and more designed to foster community building through literature, food, art, and stories of hope amongst the CGI community (read about the CGI 2023 experience here).
Sponsors for the CGI 2023 Meeting include InterEnergy/Evergo, Domuschiev Impact, AFT, Alfonso Fanjul, American Beverage, APCO Worldwide, Aurora Humanitarian Initiative, Beatrice Snyder Foundation, Bob and Jane Harrison, Caterpillar Foundation, Centene Corporation, Christie's, Cisco, Cure®, DP World, Dream, Edenor S.A., The EKTA Foundation, The Elevate Prize Foundation, Elizabeth Hirsh Naftali, Flagship Pioneering, Fondation Botnar, Global Education Foundation, Global Sae-A, JetBlue, Joyce Aboussie, The Marc Haas Foundation, The Masimo Foundation, Mastercard Center for Inclusive Growth, MEBO International, The Nima Taghavi Foundation, Pernod Ricard USA, Pfizer Inc., The Rockefeller Foundation, SAP, Starkey, Strauss Media Strategies, Susie and Mark Buell, Sydney and Stanley S. Shuman, Tarsadia Foundation, Teena Hostovich, The Varkey Foundation, Ukraine Children's Action Project (UCAP), and W.K. Kellogg Foundation. Postcode Lottery Group is serving as a partner for the CGI 2023 Meeting.
Media partners for CGI 2023 include Devex, GOOD/Upworthy, We Don't Have Time, and Grist, which is announcing their Grist 50 Fixers at CGI. For the second consecutive year, decision intelligence company Morning Consult is serving as the official data partner.
Follow CGI on Facebook, Instagram, Threads, LinkedIn, and X, for meeting news and highlights.