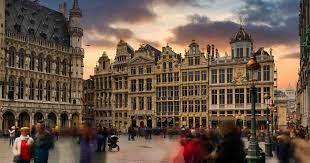 Brussels launches world's first permanent Citizens' Assembly on Climate
In 2023, the Brussels-Capital Region will launch a permanent Citizens' Assembly on Climate. In this institution, 100 citizens will have the power to put issues on the agenda and propose solutions for them. Citizens will also monitor what happens to these proposals.
Thanks to the rapid rotation of mandates, more and more citizens of Brussels will take part in Brussels' climate governance every year. The Brussels Region is thus the first government in the world to involve citizens on a structural basis in drawing up climate policy. The establishment of the permanent Citizens' Assembly, which was designed by G1000, is receiving a lot of national and international acclaim. Jean-Pascal van Ypersele, candidate chairman of the IPCC and professor of Environmental Sciences at UCLouvain stated, "With this permanent Citizens' Assembly, Brussels sets an example for governments all over the world." How does it work?
The Brussels Citizens' Assembly on Climate consists of a succession of multiple citizen panels. Each panel is made up of one hundred randomly selected citizens, who will deliberate and make recommendations on a subtheme related to Brussels' climate policy. The sortition is based on gender, age, place of residence and socioeconomic background to obtain a good representative sample of the population of Brussels. Citizens do not just give recommendations; they also actively follow up on what happens to them.
The model provides for a commission that does exactly that: follow up what the politicians do with the recommendations.
The Brussels government, for its part, has committed to examine all citizens' recommendations thoroughly and to report transparently on what it does with them. Three months after receiving the recommendations, the government must give a first update. After a year, there will be a final evaluation. If the government then decides not to implement a recommendation, it will explain that choice in detail.
From Democracy Next's latest newsletter:
As part of what we call the "deliberative wave," hundreds of assemblies around the world have sprung up around the globe over the past decade. What is new here is that the assembly is not temporary, but structurally integrated into Brussels' governance on a permanent basis.
Democracy Next Founder and CEO, Claudia Chwalisz, was involved in the design and creation of this assembly, a process that was convened by our advisory board member David Van Reybrouck through his Belgian organisation for democratic innovation, the G1000. Here's Claudia's full statement:
"The historic establishment of the Brussels Permanent Citizens' Assembly on climate demonstrates that sortition and deliberation are not merely supplementary or optional features of a functioning democracy. To the contrary, citizens' assemblies can and should operate as permanent governing bodies with the same broad powers of existing electoral systems. Brussels is a city of over 1.2 million people, 180 nationalities, and 100 spoken languages. If this can be done in Brussels, it can be done anywhere—particularly on an issue like climate which affects everyone. At DemocracyNext, we look forward to following the assembly's progress and call on cities the world over to learn from and follow Brussels' example." 
How does it work? The permanent assembly is made up of an ongoing series of citizen panels—100 randomly selected citizens per panel—who will make recommendations on climate policies.

An additional agenda-setting commission, of 25 citizens who participated in each previous panel, will decide what topic will be put before the subsequent panel.

Citizens have the opportunity to follow up on what is done with their recommendations, through a panel that will monitor how the recommendations are implemented.

Elected officials in Brussels will be required to report on how they've responded twice a year.