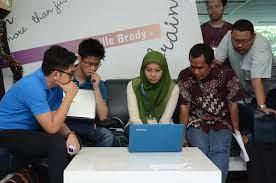 https://asiafoundation.org/2022/11/17/asia-foundation-apec-and-google-an...
The winner was announced in a statement from APEC Secretariat: 
Brunei Darussalam's Agronect, an app that provides access to education and immersive training experiences for farmers and agri-food entrepreneurs, has won this year's APEC Digital Prosperity Award.
The annual prize was announced at the APEC Ministerial Meeting on Thursday in Bangkok co-chaired by Thailand's Deputy Prime Minister and Minister of Foreign Affairs Don Pramudwinai and Thailand's Deputy Prime Minister and Minister of Commerce Jurin Laksanawit.
"The APEC Digital Prosperity Award serves as a practical platform to take forward the work of APEC in advancing digitalization and spurring innovation to increase productivity, open up more opportunities and improve the livelihoods of people across APEC," Deputy Prime Minister Don Pramudwinai said during the announcement.
This year, the much-anticipated special award is centered around sustainability. With Thailand championing the bio-circular-green economy concept, the theme focused on promoting sustainable growth among small and micro-agricultural farms as well as potential entrepreneurs of sustainable agri-food businesses in the region.
Developed by Sarinah Ziziumiza and Nursheila Ziziumiza, Agronect enables farmers and agri-food entrepreneurs' access to production techniques through immersive and interactive virtual reality training experiences, share knowledge on green practices, and connect to new market opportunities.
The app by Brunei Darussalam team was selected among other apps developed by 14 software developer teams participating in the 2022 APEC App Challenge held at the margins of the APEC Ministers Responsible for Trade in May.
"Our main goal is to empower people to learn sustainable techniques that help them grow their businesses, and using virtual reality and augmented reality makes that much easier and lower the cost," Sarinah explained. "To grow the agri-food sector more sustainably, we need to attract more talents and provide the necessary skills so that the future of food in the region can be secured."
"These young developers are precisely what we need in this time of recovery," said Dr Rebecca Sta Maria, Executive Director of the APEC Secretariat. "The app developed by Sarinah and Nursheila rose to the challenge by addressing the fundamental issue of skills and capacity building and combining it with innovative technology that serves as value-add to the learning platform."
Since its inception in 2017, the APEC Digital Prosperity Award has been recognizing new digital solutions that demonstrate the potential to increase prosperity and inclusive growth across economies in the Asia-Pacific region.
"Through the APEC Digital Prosperity Award, the region's youth continue to highlight the importance of policies promoting greater innovation and addressing trade issues," said Kim McQuay, managing director of the Program Specialists Group at The Asia Foundation. "This year's winning team, Agronect, offers not only an innovative platform for smarter farming techniques and wider participation in the supply chain, but also a concrete contribution to Thailand's vision for a bio-circular-green economy."
A joint initiative of APEC Thailand 2022, APEC Secretariat, The Asia Foundation, and Google, this is the sixth Digital Prosperity Award to spotlight talent and innovative software developers and designers from across the region.
"This is the first time the APEC Digital Prosperity Award honors innovation in the field of sustainable agriculture, in particular food production," said Scott Beaumont, President of Asia Pacific Google. "This is an important pillar for many economies in the region, and to ensure food security and safety. We're thrilled to see how digital technologies are being applied in innovative and effective ways to support the agriculture sector."
The Asia Foundation is a nonprofit international development organization committed to improving lives across a dynamic and developing Asia-Pacific. Informed by six decades of experience and deep local expertise, our work across the region is focused on good governance, women's empowerment and gender equality, inclusive economic growth, environment, and climate action, and regional and international relations.
Read more about the Foundation's work.
For media inquiries, please visit our News Room. Engage with us on Facebook, Twitter, LinkedIn, and Instagram.