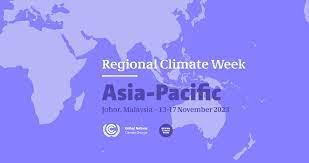 https://www.unep.org/events/conference/asia-and-pacific-climate-week-202....
Fourth of four Regional Climate Weeks held this year, APCW 2023 builds momentum ahead of the UN Climate Change Conference COP 28 in Dubai and the conclusion of the first Global Stocktake, designed to chart the way for fulfilling the Paris Agreement's goals and provide region-focused contributions to inform the Global Stocktake. 
The first global stocktake will conclude at COP28 in UAE in December of this year. The stocktake offers a unique opportunity to call for decisive change. It is an opportunity to urgently respond to the need to accelerate progress by collectively embarking on a swift and profound transformation of our economic and social systems.
 
APCW 2023 and all the Regional Climate Weeks provide a platform for policymakers, practitioners, businesses and civil society to exchange on climate solutions, barriers to overcome and opportunities realized in different regions.
APCW 2023 is organized into four systems-based tracks, each focusing on specific themes: 
Energy systems and industry 
Cities, urban and rural settlements, infrastructure and transport 
Land, ocean, food and water 
Societies, health, livelihoods, and economies 
APCW 2023 is organized by the United Nations Framework Convention on Climate Change (UNFCCC),  United Nations Development Programme (UNDP), United Nations Environment Programme (UNEP) and the World Bank, with support from regional partners.
Representatives from UNEP are organizing/taking part in the events as outlined in the respective tabs. Time zone: Malaysia Time (MYT) (GMT+8)
Representatives from UNEP are organizing/taking part in the following events during APCW. Time zone: MYT.
Action Track Events
14 November, 9h30 - 11h00, Track 1 | Translating long-term strategies and NDCs into action for just energy transition in Asia Pacific
15 November, 11h45 – 13h00, Track 1 | Critical Minerals for a Just Clean Energy Transition in Asia Pacific
15 November, 14h00 - 15h15, Track 2 | Accelerating sustainable transport
15 November, 14h15 - 17h15, Track 2 | Non-State Actors Perspectives On The 2023 Breakthrough Agenda Report In The Asia Pacific
17 November, 9h00 – 10h45, Track 1 | Energy efficiency: Achieving climate action goals, energy security and an improved life