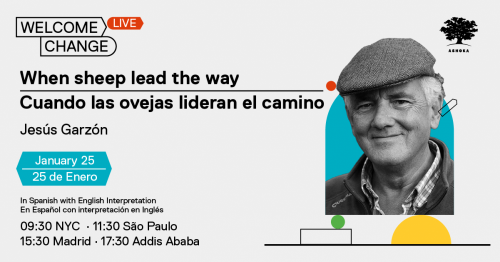 Jan 25, 2023 03:30 PM in Madrid
https://us02web.zoom.us/webinar/register/1016080504079/WN_Q8VcLwYgT-SVqR...
The event is part of a long list of talk programs: https://www.ashoka.org/en-in/welcomechange , a weekly news series features surprising takes on timely topics from the world's leading changemakers. 
Live from the Madrid Sierra, join us on January 25 to learn from Jesús - founder of Transhumancia y Naturaleza - about the wisdom of (nonhuman) animals. This conversation will be in Spanish with simultaneous interpretation available for any who prefer English.
---

What is Welcome Change? Meet the world's best social entrepreneurs and get an insider look at what works, and what's next. All topics, all geographies, every Wednesday (alternating time zones). Browse the series: