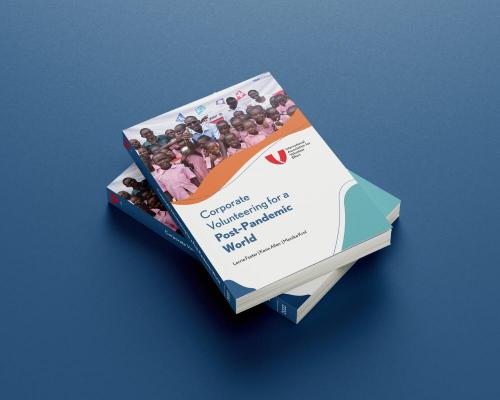 Download the report here: https://iave.us5.list-manage.com/track/click?u=507743be4721233a999c89020...
Last year we released Corporate Volunteering for a Post-Pandemic World, a comprehensive look at corporate volunteering based on interviews with 80 companies located in 32 different countries. The research has been downloaded thousands of times and the key findings shared at conferences around the world, both in-person and virtually. We have also hosted many webinars to highlight the key findings. The original report was translated in whole or in part into Spanish, Chinese, and Korean.

. Analytical profiles have been written by local researchers based on extensive interviews with companies, nonprofit organizations, volunteer-involving organizations, academics, and independent consultants.
Feel free to share the report with your networks. We look forward to hearing from you to learn how you are using this information to inform and inspire your volunteering programs.
In this research report:
The State of Health of Corporate Volunteering in:
AFRICA


Contemporary Trends and Patterns of Corporate Volunteering in Africa
Causes Supported by Existing Programs
Employee Volunteering Issues
Significant Country-Specific Volunteering Trends
Government Policies and Regulations

ARAB NATIONS


The Role of Culture and Religion
The Role of the State
Demographic, Economic and Political Factors
Trends in Corporate Volunteering
Corporate Volunteering Trends in Different Arab Countries

ASIA-PACIFIC


Characteristics Distinct to the Region

Special report: China


National Policies
Popularization of Enterprise Voluntary Service
Branding of Enterprise Voluntary Service
Speeding Up Establishment of Voluntary Service Information Systems
Exploring Online Volunteer Service
Specialization of Enterprise Voluntary Service
Participation in the Strategy of Corporate Social Responsibility
Participation in the National Strategy
Family Participation in Enterprise Voluntary Service

Special Report: Korea


An Increased Focus on Measuring Social Value

EUROPE


Differences and Similarities Across Borders
Country Specific Characteristics
Challenges and Opportunities

Special Report: Poland


The Polish Tradition of Voluntary Action
Volunteering in Poland: Skepticism, Distrust and Bad Experiences
Challenges
Who Are the Most Vulnerable – and Why?
How Companies Are Influencing Volunteering in Poland
"Action" Overload
Looking Ahead –the Future of Corporate Volunteering in Poland
Influences of Immigration: Ukrainian and Belarus Case
Companies Jumping Onboard

Special report: Russia


Important Update
New Trends and Patterns in Corporate Volunteering
Increased Employee Volunteering to Support Particular Causes
Needed: Exploration of employee volunteering in local and/or mid-size companies
Significant Country-Specific Trends
The Influence of Government Policies and Regulations
Key Problems of Corporate Volunteering

LATIN AMERICA


Confronting Complex Realities
Identifying Regional Tendencies
Finding the Right Focus
Cross-Cutting Trends
Collaborating to Meet Particular Needs
Toward More Professional Management
The Future of Corporate Volunteering in Latin America

Special Report: Venezuela


A Country Once Known as Rich and Prosperous
A Country in Complex Crisis
Adapting to Local Reality
Highlights of Key Initiatives

NORTH AMERICA


North American Issues
Forces Shaping Corporate Volunteering
Forms of Corporate Volunteering
Management of Corporate Volunteering
Rise in Corporate Volunteering
Towards Issue-Specific Corporate Volunteering
Dedicated Volunteering Day(s)
Stepped-Up Emphasis on Skills-Based Volunteering
Networking to Spur Innovation