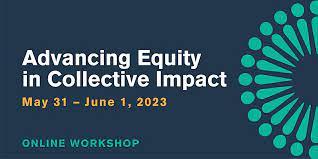 Equity is core to achieving collective impact, but how do participants and leaders center equity in the structures, processes, strategies and results of an initiative's work?
To explore this topic, join us May 31-June 1 for the online workshop Advancing Equity in Collective Impact. In this session, we will cover the key building blocks for equity-focused collaborative work, as well as go over strategies, practices, resources, and tools for embedding equity into collective impact initiatives.
The workshop is split into two parts: a half-day workshop on May 31 and a 90-minute session on June 1 where participants can engage with faculty in further Q & A and peer discussion.
Who is this workshop designed for? This workshop is designed for participants who already have an understanding of the foundations of collective impact, but are newer to embedding equity into their collaborative work.
Registration closes May 26, so register soon to save your spot.
Workshop Date and Time
Advancing Equity in Collective Impact:
May 31, 2023 – 1:00pm – 4:30pm ET (US & Canada)
Faculty Coaching and Small Group Peer Discussion:
June 1, 2023 – 1:00pm – 2:30pm ET (US and Canada)
Lead Faculty
Courtney W. Robertson, Director of Programs and Partnerships, Collective Impact Forum
Junious Williams, Senior Advisor, Collective Impact Forum
What's good to know about this workshop?
Supportive Resources and Frameworks: This workshop will share resources to support operationalizing equity strategies.
Workshop Recordings: The workshop and coaching time will be recorded and shared after so that you can continue to review the materials and resources.
More Coaching Time: The second day of the workshop features more time for faculty to answer your questions as well as time for peer discussions with other attendees.
Group rates are available: For groups of 10 or more people who are interested in joining the workshop, there are group discounts. Please contact Christopher Pulido for information about discounted rates.
We hope you will join us! Register by May 26th to reserve your spot.
About the Collective Impact Forum 
The Collective Impact Forum, an initiative of FSG and the Aspen Institute Forum for Community Solutions, is a resource for people and organizations using the collective impact approach to address large-scale social and environmental problems. We aim to increase the effectiveness and adoption of collective impact by providing practitioners with access to the tools, training opportunities, and peer networks they need to be successful in their work. The Collective Impact Forum includes communities of practice, in-person convenings, and an online community and resource center. Learn more and join the community at collectiveimpactforum.org