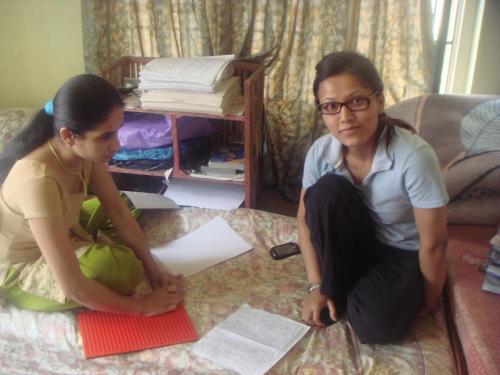 I am Sharu Shrestha. I am currently studying Bachelor of Public Health (4th year). Beside my study, I also like to involve in volunteering activities. I have been volunteering in ENGAGE and Pasupati Old-age Home. I am also director of Leo Club of Kathmandu Chabahil.
To focus my work, I would like to share my experience on working with ENGAGE and Braille writing.
ENGAGE is a non-profit organization established in 2010 with mission of nourishing, fostering and promoting volunteering efforts throughout the nation. Its aims to promote community service experiences for people focusing on disability as its thematic area.
Hoping to gain some new experience, I started volunteering at ENGAGE by joining its 3 months project called "Guiding Hands" as an ENGAGE Corps member, where the Corps members should support visually impaired persons in their education. Before meeting to our service user, we had 3 days mobility training where we Corps member learned how to walk blindfolded on staircase, on street with clank. It was quite dangerous. Then we got chance to meet our beneficiary. The first meeting went with full of nervousness because I didn't know about them, their living style and their daily challenges.
As time passed by, we started being friends. In no time we started laughing and also teasing each other. I used to spend whole day with her and I still do. I was quite happy that our bonding was going great. Even after completing 3 months, I am still continuing my work for the organization.
And the best part of my experience is that my service user taught me to write on Braille. She gave me codes for alphabets, numbers and symbols. Then I started making notes for her from her course book at home. She is very happy that I am writing for her. At first it took me an hour to write on a single paper because there are different codes to each alphabets, numbers and even symbols. But now it doesn't take much time. It has been daily routine for me. I spend at least 1 hour a day or sometimes more making notes for her. Writing in Braille is one of the most exciting experiences that have ever happened to me. Even though the first time writing made my hand in pain but now there is no pain at all. I am getting used to it.
I am very happy to be a part of her life, helping her.
for more info https://www.facebook.com/UNVNepal