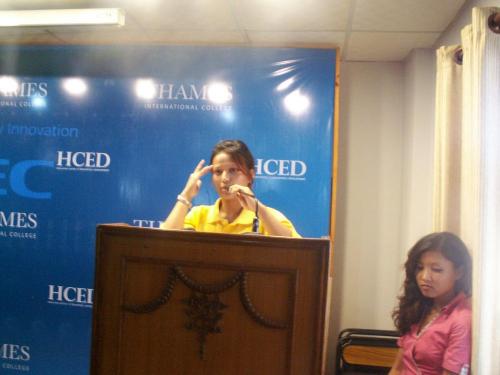 Sharu joined ENGAGE Corps, the part time volunteering service in the field of disability in 2012 and she is still keeping it up with no intention to stop it.
Being involved with Guiding Hands, the ENGAGE Corps project supporting persons with visual impairment, Sharu went far beyond the extra mile, truly showing her strong determination and her selfless spirit.
Initially Sharu was supposed to volunteer only for 5 months after two years she still is going on because regardless of being an ENGAGE Corps, Sharu is first most a committed citizen with a great altruism.
If you look at the extents of her service experience, Sharu is very special: after all where can you find a person so attached to a just cause like her? How easy is it to have a person who is enjoying volunteering so much?
At the same time Sharu is a very normal, a bright young girl who has been focused on her studies, friendships and ordinary things that all young people do. This proves that almost everybody could be like her. Every single person, regardless of his or her skills can be part of what at ENGAGE we call "Volunteering Inspired Society", a call for action where everybody can have a role in helping those in need.
Fortunately at ENGAGE we have many promising volunteers, young people really interested to serve and work with persons with disabilities. It would be unfair to them not to celebrate their achievements too and they are not few actually.
At ENGAGE we believe that volunteerism can be an inspirational platform not only to help persons living with disabilities but also a way to build relationships and change attitudes towards disabilities. Ultimately we want to prove that also a person living with disabilities can be inspirational and a model for other persons. We want to mainstream disability in the society, make people aware that a person with disability can make a difference too. How this attitude is true for Sharu?
In all this period, Sharu has not only been helping Bindu, the service user assigned to her, in her studies but together they also developed a strong friendship. Sharu learned so much from Bindu. Just know that Sharu even learned how to write in Braille language, how amazing? This is the power of inclusive volunteerism, so truly transformative.
For all this reason, yesterday 4th of August during the Graduation Ceremony of ENGAGE Corps, Sharu, received the Award for Best Corps. It is just a small recognition, nothing else though we wanted to attach something very special to the token of appreciation Sharu received. Unfortunately we could not manage it but we know that what really matters is to celebrate and recognize Sharu as an inspirational role model.
Sharu, not a super young woman but a committed one, with a great heart.
Congratulations Sharu, we are all proud of you. Thanks to all Corps who are making ENGAGE possible.
PS
Note that Sharu is not on facebook (she is not the only one…)