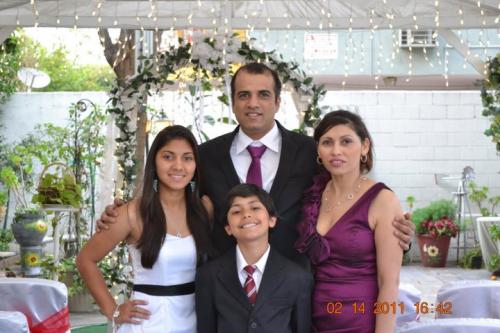 I had met Radha Paudel, Founder/President of Action Works Nepal (AWON) when I interviewed her for the former NTV show, Inspirations. When I told Radha that I would be visiting the US, she asked if I could carry copies of her recently published memoir, Khalanga Ma Hamala to her sister Shanta Adhikari Paudel who lived not too far from my parents in the Los Angeles/Orange County, California area.  I was happy to oblige as Shanta came to my parent's home where there was an immediate "family" connection.    Shanta is a member of Action Works Nepal, and has live in the US for 15 years, now with her second husband and two children.   I was curious about Shanta and her story and asked her to respond to some written questions. 
In Nepal, Shanta was a very bright student in both school and college and she graduated with honors in nursing. Her family did not have enough money to pay for college, however, she had received scholarships from two different organizations, which enabled her to complete her nursing diploma. Shanta's father had died when she was 10; two older sisters were married before her dad died.  Her mother, one younger brother and Shanta were surviving on some farming land.
Shanta's two married sisters and their husbands were very supportive when there was a need for health care, school and other urgent matters. Shanta's dream was to get a good paying job, send her brother to college, build a safe and comfortable house for her mother, and keep her family happy.      Despite these dreams Shanta married as soon as she started working. Shanta's husband had authority over her earnings, although he had neither a job nor any income.
In Nepal, if a husband's family owns a house and land, a wife is allowed to stay in the family house, do the chores, work in the field, and share what she earns. But Shanta's philosophy was different. She wanted to have financial security, advance her career, and raise her daughter without hardship. She had no savings for any urgent matters i.e. treatment for her daughter for  a serious illness , future education, etc.  Shanta felt that it was not possible to keep living in the way that she was and dreamt of a better life for her daughter. Her income of about  Rs.3000/month was not enough to please her husband, his family and fulfill her needs.
Shanta thought  that if she went to a developed country and worked she could send money home for her mom and brother so that they could live a better life. She was overjoyed when her husband said that he wanted to go to the US to study and encouraged him. 
First her husband went to the US on F1 status (student visa) and Shanta followed him six months later, leaving her daughter in Nepal with her husband's family. It wasn't always easy as there were many obstacles such as obtaining a social security number, working permit, nursing license and permanent residency. 
Shanta missed her daughter and family and was unable to maintain balance between the expectations of her husband's family in Nepal and daily life in the US. In the beginning Shanta was a factory worker, earned very little money, had an old car, no health insurance and still she sent money to her in-law's to please them and show her gratitude for taking care of her daughter.
After 4-5 years Shanta was able to obtain a green card through her nursing job, as she is an RN. Shanta's husband received his green card through her, and then she finally brought her seven-year-old daughter to the US. By then, Shanta and her husband already had another child.  As Shanta was the primary family breadwinner she started working extra hours, and was very involved in her daughter's school life because she, at that time, did not speak English
About three years later, Shanta's daughter exhibited major signs of abuse and she revealed that her father had been abusing her for more than two years. Shanta confronted her husband, but instead of the abusive behavior lessening it escalated; he abused their daughter to the point where Shanta had to report this to child protective services. Thereafter, the Children's Court investigated and found that he had sexually abused her and put a permanent restraining order against him since, it was detrimental for the children to see their father.   Shanta had also been abused-physically and emotionally by her former husband. Shanta bore these abuses and hoped that this would stop, but she could not take it anymore when she found out that he abused their daughter.
Another type of struggle started for Shanta.  She worked hard, and without a partner, provided for her children for five years. Shanta finally remarried and her children are now thriving.  Shanta and her husband also have a nephew and a niece living with them and life is stable.
There are more than 500 Nepali families in Southern California, however, they are rather scattered. During cultural programs such as Nepali New Year, and Dashain, the Nepali community gather together and enjoys music, dances, food and company. There are many organizations established by groups of Nepalese such as American-Nepal Society of California, Nepal America Ekata Samaj, Pashupati Foundation and Friends of Nepal.   However, because Shanta stood up and reported the abuse against herself and her daughter she is "shunned" by others.  Shanta's teen daughter has been struggling to understand why the Nepali community does not support her and her mom and have actually ignored the abuse that occurred.
Shanta wants to come back to Nepal once her children graduate from college.  Shanta wants to be involved inn social services through AWON as she feels a deep love responsibility to give back to Nepali girls and women in what she says is a "very much male dominated society". 
Shanta's advice to others wanting to go overseas is, "No matter where you go, the struggles are there. Expect very hard days in the beginning. Weigh the pros and cons of leaving your family, children, parents, selling off your property is really worth it or not. If you are determined to migrate, be prepared to do any type of job such as working in a factory, restaurant, gas station, convenient store, etc. despite your established career and professional license in Nepal. It is always helpful to find someone who has been here for some time to lean on till you know your way around. In terms of victims of violence, especially girls and women, the world will not understand what you go through every day, but don't hesitate to come out to reveal the truth even if you are alone in the battle to protect yourself and your children."