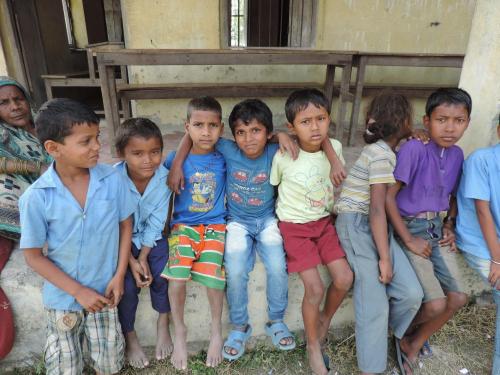 "If humanitarian organizations developed more preventative health initiatives, there would be 30% less disease." (WHO)
Since its start as a small eye unit with only 12 beds in 1983, the Sagarmatha Choudhary Eye Hospital (SCEH),   Lahan, has performed more than 3.7 million examinations and 843,000 surgeries.  SCEH has seven satellite clinics, providing services to the economically poor and under-privileged population in eastern Nepal and northern India.  Phul Kumari Mahato Memorial Hospital (PKMMH) in Karjanha, Siraha is a 50 bedded institution almost three years old serving a number of districts and a population very similar to that served by SCEH. 
Recently a partnership has been undertaken by these two institutions in order to provide more comprehensive services to the population in the Karjanha area.  The partnership began with PKMMH providing free medical and dental screenings and lab services to SCEH staff in Lahan.  SCEH will return this by providing free eye screenings to PKMMH staff. 
Following up on the screenings at SCEH, the primary goal of the partnership is to provide hearing, eye, medical and dental screenings and blood grouping types to children in the Karjanha area.  The point is to create greater health awareness with the hope that children will educate their peers and their families. The first camp was held at Janasewa Secondary School, Karjanha with a student population of more than 1000. 
The students were extremely excited, but unfortunately we were barely able to scratch the surface, given time limitations, bringing up the issues of huge health needs in this area.  What I'm finding is that given inadequate health education and awareness people often wait until they are very sick to get treated, rather than, e.g. going to the dentist every six months for a scaling.  There doesn't seem to be a major focus on body health and many people are afraid to see a doctor/dentist. 
The private sector has a potentially huge role to play in Nepal's health sector.  At many camps pharmaceutical companies provide free medication, hoping that doctors will prescribe their products.  Providing health insurance is a method for ensuring that people, who can afford this, have some coverage.  But what about the masses, those that wait until there is an emergency because they feel that they can't afford or don't possess the awareness to take care of themselves and their family adequately.
Medic Mobile is a company working in many countries, including Nepal.  Health workers use Medic Mobile to register every pregnancy, track disease outbreaks faster, keep stock of essential medicines and communicate about emergencies. This platform is built for the last mile of healthcare. The company is committed to free, open-source platforms that can be adapted for specific uses backed by evidence.
Karuna-Shechen, founded by Matthieu Ricard in 2000, provides health care, education, and social services for the under-served people of India, Nepal, and Tibet. Karuna-Shechen provides medical services and health education to individuals and families through clinics, and mobile outreach programs. In Nepal, Karuna-Shechen is creating sustainable ways to provide fundamental medical services to the under-served through the Shechen Clinic and Hospice and its mobile medical clinics and camps. The people served live in, the outskirts and slums of Kathmandu, and in rural villages and Nepal.
Thinking about the above examples one realizes that there is a tremendous amount of infrastructure already in place and that one doesn't need to stretch very far to develop partnerships and modalities for bringing health services to the nation. However, as the above examples indicate institutions need to be willing to meet the community where it is at and not expect the community to come to the Institution, i.e. until strong relationships have been built.  This lesson in developing relationships must also be taken to heart by institutions developing partnerships.  No one institution can do it all, however through collaborations greatness, and even bringing health care to the entire nation, can be achieved.