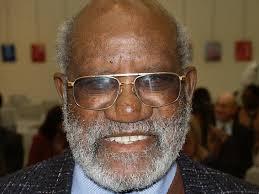 Andimba Toivo ya Toivo, who has died aged 92, led the struggle to liberate Namibia from apartheid South Africa as a freedom fighter in the mould of Nelson Mandela, with whom he was imprisoned on Robben Island.
Toivo's uncompromising nature was exemplified when, in August 1967, he stood trial in a Pretoria court, charged with the capital offence of terrorism. "Is it surprising that in such times my countrymen have taken up arms?" he asked. "Violence is truly fearsome, but who would not defend his property and himself against a robber?" That robber was South Africa, which had been granted trusteeship of the German territory of Deutsch-Südwestafrika after the first world war, only to refuse to allow it independence after the second world war.
Judge Ludorf was known to be a hanging judge. He had done no military service, and as an advocate, he had defended a South African who had spied for the Germans. Toivo bravely pointed up the irony of the judge branding him a coward: "During the second world war, when it became evident that both my country and your country were threatened by the dark clouds of nazism, I risked my life to defend both of them … but some of your countrymen, when called to battle to defend civilisation, resorted to sabotage against their own fatherland.
to continue, read here: https://www.theguardian.com/world/2017/jun/27/andimba-toivo-ya-toivo-obi...
Here more articles: http://www.namibian.com.na/56064/read/Goodbye--Nation-bids-farewell-to-Y...
http://www.dw.com/en/namibia-in-mourning-for-independence-leader-herman-...