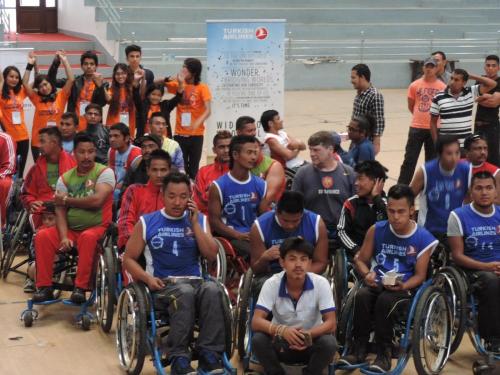 This morning I played basketball.  I was admiring two pair of shoes from one of the other players and he told me that he collected these.  I specifically asked about the cost of one pair and was told that they cost $200  at the Adidas shop in Durbar Marg.  I looked down at my shoes which I thought were adequate which cost me, I think, $30 in the US.  Either way for most Nepali's spending this much money for basketball shoes makes little sense.   
Yesterday was the opening of the Turkish Airlines ENGAGE Empowering League, the very first wheelchair basketball league in Nepal.  This was held at the Covered Hall, Army Physical and Training Center, Lagankhel, Lalitpur. Speeches were given at the opening ceremony by a number of people representing the main sponsors and convenors from the Government of Nepal, Olympic Committee, Swiss Embassy  and ENGAGE.  Although those in attendance were by far Nepali, most of the speeches were delivered in English.  The younger generation in Kathmandu seem to be multi-lingual and they most likely understood what was being said.  Not really understanding Nepali I appreciated this but I wondered why, although most people don't care, all of the speeches weren't translated as I'm not sure that many of the players understand English.
There were four games with the first being two of the three women's teams.  Neither team wanted to play in sports wheelchairs of which there were plenty.  This led to a very slow game with the final score being 4-0. In the second game the top team in the league, the Army using sports wheelchairs handily won against a team with some good players, but who also didn't want to use sports wheelchairs.  The third game was good as there was a mixture of sports wheelchairs.  The fourth game, which was by far the most competitive, ended in an overtime tie and also had a little bit of controversy which added to the fun.  This was caused when the officials didn't hear a time out called leading to a basket which tied the score.   
It was wonderful to see so many players who stayed throughout the entire day cheering on others.  But I was somewhat disappointed by the overall lack of media coverage and not great public attendance.  I know that I can't expect the same interest as in mainstream sports but it still upsets me that others don't pay more attention to disability sports I know that maybe this has something to do with the fact that there is only one day off/week in Nepal. 
The ENGAGE team with their numerous volunteers were really terrific.  Trying to create more volunteerism in Nepali society is what the organization wants to do and certainly the League opening exhibited this.  But there also has to be more cooperation from others.  Although the Army is the only venue where ENGAGE has to pay a fee one would hope that the restrooms might be clean and be somewhat accessible.  However, this was far  from reality.    There was a hassle regarding using restrooms inside the covered hall as opposed to those outside.  Once approval was granted to use these restrooms the ENGAGE group had to clean them at the end of the day.  This shows a general lack of caring on the part of the venue operators. 
But I want to end this on a positive note.  In the US it is in fact about the shoes one wears when one plays.  I get somewhat caught up in this but more from liking high tops, although I always buy those on sale.  For the players in their wheelchairs I'm not sure that it really matters as long as they have uniforms which the League did provide, although I have to say that the referees who did  a fabulous job, had the best shirts. 
All of those at ENGAGE are my friends, I'm working with them as a Senior Advisor, it's not about my age I don't think, but I have to say that they understand the meaning of persistence.  It's not about an occasional tournament, which is only about winning.  The League is about doing something in the long-term, something much deeper.  Working in Nepal is not easy as there are many hurdles, maybe for the general populous there needs to be reasonable accommodation.  But staying the course, making the 2016 League a pilot and expanding throughout the entire country will impact  many people and maybe eventually others will take more notice leading towards much more interest and inclusion.