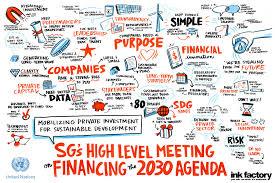 The UN Secretary-General has released a four-year strategy for financing the 2030 Agenda for Sustainable Development. The Strategy underscores the UN's critical role in supporting and accelerating the mobilization of finance and focuses on three objectives to accelerate progress from global to local levels, linked to areas where the Secretary-General's leadership can galvanize action.Titled, 'The Secretary-General's Strategy for Financing the 2030 Agenda for Sustainable Development (2018-2021),' the Strategy was released on the occasion of a UN High-level Meeting on the same topic on 24 September 2018, at UN Headquarters in New York, US. A synopsis was released on 17 September 2018 as part of the webpage for the meeting.
The Strategy's first objective is to align global financial and economic policies with the 2030 Agenda. The Strategy argues that, when public policies are "firmly and consistently formulated to achieve sustainable development," such policies can realign incentives and alter market perceptions of risk. At the same time, despite growing private interest in impact and sustainable investing, there are not yet globally agreed definitions of concepts and existing sustainability principles have not led to standards to guide sustainable finance, including sustainability bonds, SDG bonds or green bonds.
To deepen markets for sustainable finance, the UN is framing discussions on definitions, principles, guidelines and standards.
To address these challenges, the UN is working with global policymakers and regulators to increase understanding on the role of public policy in developing a sustainable financial system, including through framing discussions on definitions, principles and guidelines and developing standards to facilitate the deepening of markets for sustainable finance. In addition, private financial institutions are working with the UN to understand the relevance of environmental, social and governance challenges to finance, such as considering how to address sustainably in private enterprise and finance business models.
The Strategy's second objective aims to enhance sustainable financing strategies and investments at country and regional levels. To achieve this objective, the UN will support the development of sustainable financing strategies at the country and regional levels, including by providing advice and support for creating investible projects, building enabling environments and developing financing strategies. UN country offices and regional teams will also provide capacity building support for domestic resource mobilization (DRM) to support countries to strengthen and increase the effectiveness of their tax systems to provide government funding for the SDGs, including by addressing illicit financial flows, base erosion, tax evasion and tax transparency.
The third objective focuses on seizing the potential of financial innovations, new technologies and digitalization to provide equitable access to finance. The Strategy identifies access to finance as a prerequisite for sustainable and equitable development, noting that the digitalization of finance has facilitated "major progress in financial inclusion" in recent years. Despite this progress, large gaps remain, particularly for women, micro, small and medium-sized enterprises (MSMEs) and people in the poorest countries. To close these gaps, the UN will bring together policymakers, financial regulators and innovators in the space of digital finance and fintech to exchange experiences and best practices on innovative financial instruments, including on the implication of new financial technologies for regulatory frameworks and the development of global norms.
To execute the Strategy, Secretary-General Antonio Guterres will provide a three-year roadmap of actions and initiatives. The roadmap will build on key stakeholders' current and future activities to mobilize investments and support for financing the 2030 Agenda.
The Deputy Secretary-General will lead the Strategy's implementation on behalf of the Secretary-General, in coordination with heads of entities within the UN system. [Publication: The Secretary-General's Strategy for Financing the 2030 Agenda for Sustainable Development (2018-2021)] [SDG Knowledge Hub story on HLM]