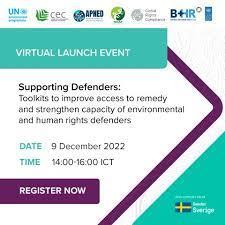 Register here: https://undp.zoom.us/webinar/register/WN__3diJaz0SbC-8N1UQMHTig
https://bizhumanrights.asia-pacific.undp.org/
The webinar will feature a conversation on the evolving circumstances that human rights defenders face in the Asia-Pacific region, with emphasis on environmental and land defenders and defenders facing business-related abuses. Two toolkits will be launched: the Routes to Remedy (R2R) Toolkit for Defenders Facing Business-Related Human Rights Abuses and the Environmental Human Rights Defenders Toolkit.
The Routes to Remedy (R2R) Toolkit for Defenders Facing Business-Related Human Rights Abuses aims to facilitate access to remedy for defenders. On the R2R Portal, defenders can select where a violation took place, who was involved, and what happened. This will toggle an overview of available grievance mechanisms and remedies at their disposal. The Portal also contains other useful information for defenders, including guidance on investigative rules, preparing for an investigation, collecting and preserving information and evidence, conducting interviews, safety, security and protection, and mapping corporate supply chains and group structures. A resource hub within the portal provides information on existing initiatives and alternatives available to seek support and a glossary of (legal) definitions. 
The R2R portal currently covers Bangladesh, India, Indonesia, Malaysia, Sri Lanka, Thailand, Viet Nam. It addresses State and business duties. It provides information on access to remedy in relation to intimidation, strategic lawsuits against public participation, illegal arrest and detention, protests and strikes, forming organizations or trade unions, wrongful accusations and convictions, surveillance, torture and violence, killing, and sedition.  
The Environmental Human Rights Defenders Toolkit aims to provide a set of resources to enable EHRDs to protect, promote and realise the right to a healthy environment and support their important role to tackle the triple planetary crisis and achieve the 2030 Agenda. Land and Environmental Human Rights Defenders (EHRDs) play a vital role as levers of change in protecting the environment and standing up for communities and individuals who are disproportionately impacted by environmental harm. For years, they have been at the frontline as advocates for sustainable practices and rights-based development, and in holding duty bearers and businesses responsible for unsustainable practices and violations of all peoples' right to a clean, healthy and sustainable environment. 
The EHRD Toolkit has five modules namely Module 1: Launching environmental campaigns, Module 2: Conducting risk assessments, Module 3: Accessing international human rights mechanisms, Module 4: Accessing support for EHRDs and Module 5: Ensuring psychosocial wellbeing
Speakers; 
Facilitator: Dr. Harpreet Kaur, Business and Human Rights Specialist, UNDP
14:00-14:05     Opening Remarks
Farzana Faruk Jhumu, Associate Coordinator, 350.org; Member, YECAP Youth Advisory Group on Environmental and Climate Justice
14:05-14:50     Panel Discussion: The current Situation for Human Rights Defenders in Asia
Moderator: Renuka Kad, Asia Pacific Network of Environment Defenders (APNED)
John Ian Alenciaga, Jalaur River for the People's Movement
Benny Agus Prima, Human Rights Defenders Programme Manager, FORUM-ASIA
Annie Khan, Acting Asia Regional Manager, Business & Human Rights Resource Centre
14:50-15:15     Environmental Human Rights Defenders (EHRDs) Toolkit and Good Practices for Supporting EHRDs
Lai Mai Torres, Head of Secretariat, Asia Pacific Network of Environment Defenders (APNED)
Angela Kariuki, Programme Management Officer, UNEP
15:15-15:40     Routes to Remedy Toolkit for Defenders of Business-Related Human Rights Abuses in Asia
Kevin Lehmann, Business and Human Rights Analyst, UNDP
Lara Strangways, Head of Business and Human Rights, Global Rights Compliance
15:40-15:55     Q&A on Toolkits
15:55-16:00       Closing Remarks
Dr Pichamon Yeophantong, Vice-Chair, UN Working Group on Business and Human Rights; Associate Professor and Head of Research at the Centre for Future Defence and National Security, Deakin University