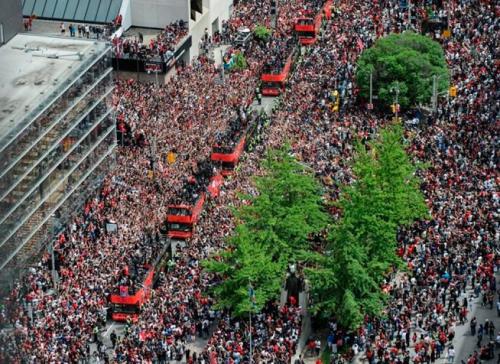 No one was expecting such a massive turnout. On the 15th of June, two millions of people flooded the streets of Toronto, the most diverse town in the world and the economic engine of Canada.
They were all there to celebrate their male basketball teams, the Raptors that, few days earlier, had won the National Basketball Association title, the most prestigious basketball championship in the world.
It was a first time for them and it was a prime for a non-American team to be crowned.
What was supposed to be a quick parade of the players throughout the streets of down town Toronto turned into a real carnival, taking the team almost six hours as there were people from all the walks of life and all ages there waiting for their champs.
It has been a massive success for Toronto, an achievement that took years of buildup, humiliating losses like the ones inflicted by the Cleveland Cavaliers in the last two playoffs.
This victory was long in making and it also took some cunny decisions last year by the team executives to trade one of the Raptors most loved players, DeMar DeRozan, a guy raised in one of the roughest areas of Los Angeles and who had literally grown up as a human and player in Toronto, for Kawhi Leonard, one of the best players in the NBA.
DeRozan is a great player too and fans loved him.
He really did not want to be traded and fans hated it and somehow resisted it but the idea of having Leonard playing in Toronto was also exciting and throughout all the season and during the entire play off games, he really proved how an amazing player he is.
More clever players' acquisitions were made throughout the year and the Raptors, although with a bit of luck, were able to win the title.
It might be obvious now that I have a personal interest for the Raptors.
It is my NBA team and I follow them quite passionately since more than five years.
My friend Mike Rosenkrantz, a diehard fan of the Los Angeles Lakers, during his stay in Nepal somehow awoke my interest for basketball, a sport I used to follow back in Milan when I was small.
To be frank I do not understand so much of basketball, I know pretty much the basic but I do not really care.
I love and follow a lot of sports, many of which I hardly understand but they are fun so I keep watching them.
Moreover basketball is one of the most exciting games to be watched and you do not need to be an expert to truly enjoy it.
Back to the Raptors, what I saw on line during the Raptors' Victory Parade was totally excitement and joy.
The local businesses were shut down;  entire families were there to mark a historic moment.
Let's call the power of sports.
There are quite a bit of people, including some of my friends, who do not really follow sports. Simply they do not care, fair enough.
I guess it is also a matter of "education" at home, having or not a family member following a sport.
In this sense I was lucky enough because my father, a good amateur football player in his days, loves and in general follows many sports and though football is really big back home, basketball also is quite followed.
For me sports are a great way of connecting, of being part of a bigger family.
Unfortunately, especially in Europe, sports arenas have become also a beacon of frustration, anger and aggressive behaviors compounded by strong racism.
So in one hand we saw great celebrations in Toronto, a great example of the positive way through which sports can bring persons together while, on other hand, we too often hear racially charged chants that belittle and degrade other human beings.
All these racist guys in the sports arena should not be banned from attending games but rather re-educated and helped to become better persons through sports.
I believe that sports should be promoted massively in a comprehensive fashion: from the fitness point of view as we all know of the benefits of practicing it but also from a pedagogical perspective that highlights the spirit of team work that is founded on friendship, cooperation, honesty and hard work and respect.
The Raptors' success proves how positive sports are not only embedded in positive values but they reinforce them.
Let's look at Kawhi Leonard. He won the Most Valuable Player Title during the NBA Finals and the guy is totally unassuming and humble, perhaps an introvert and shy. He never ever shows off, he literally has the right attitudes.
He deserves respect for the way he worked hard, bonding so well with his new team mates, showing respect and resilience in the times where commentators were again busy talking that the Raptors was a good team but not good enough to win.
He is not the only one.
I do also remember a press conference last year where Kyle Lowry, another iconic player for the Raptors, was sitting beside his best buddy, DeRozan, with his face completely shadowed by a baseball cap, covering his tears because he was totally crushed by a humiliating loss.
In that press conference Lowry could not speak a single word and even this year he was criticized for not having the "numbers" of a true champion. Despite the constant rumors, he remained silent and kept working hard, believing in himself.
At the beginning of the season, Lowry was also upset with the departure of DeRozan.
To be honest I was pissed off too. Throughout the year, while I was still following the Raptors, I had somehow lost some interests because I did not like the way DeRozan was traded: he really did not want to go; he wanted to win a title with his team he had started his career with, the Raptors.
In a recent interview, DeRozan shared that at the time of his trade, he felt like a "sacrificial lamb", a high price he had to pay for his team to land Leonard and the title.
I believe DeRozan is right, he contributed so much over the years like Dwane Casey, the former coach of the Raptors who got fired last year no matter him setting the team records for wins and points and being nominated the best NBA Coach of the Year in 2018.
The same applied to Jonas Valančiūnas, another pillar of the Raptors who, just imagine, in February this year, in the middle of the season, was traded to give space to a more experienced player, Marc Gasol. He was one of the longest tenured players at the Raptors, contributing immensely.
At the end sports can be cruel and yet we should recognize that Raptors' triumph was a truly team work that took years of painful and marginal improvement and true, deep team work.
I still remember when my friend Mike lost a bet with me because he could not believe Raptors could qualify for the play off. It was just few years back.
Yes they were that bad and took Coach Casey, DeMar DeRozan and many former players to lay the foundations for this year triumph.
The same applied to the Golden State Warriors Team who lost this year finals.
They are one of the greatest ever teams, winning the title in 2015, 2017 and 2018. It took them decades of humiliating losses, always overshadowed by the better Los Angeles Lakers.
I am glad that Masai Ujiri, the maverick President of the Raptors President, at least acknowledged, during the finals, the contributions of Coach Casey and DeMar DeRozan.
Let's celebrate the Raptors' win as the win of the "underdogs" where all the players, including the bench, make the difference, where even the best player is the most humble one and where the right values count and make the difference.