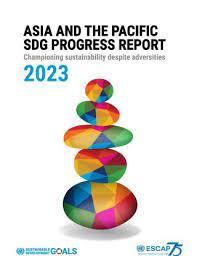 https://www.unescap.org/news/championing-sustainability-despite-adversit...
Register here: https://eur02.safelinks.protection.outlook.com/?url=https%3A%2F%2Fbit.ly...
What:       Launch of Asia and the Pacific SDG Progress Report 2023
When:      Wednesday, 22 March 2023, 11.00am – 12.00pm (UTC+7)
Where:     In-person at the Foreign Correspondents Club of Thailand, Penthouse, Maneeya Centre,   Ploenchit Road, Bangkok and online via ZOOM
Key Speakers:
Armida Salsiah Alisjahbana, 

United Nations Under-Secretary-General and Executive Secretary of ESCAP

Rachael Beaven, 

Director, Statistics Division, ESCAP
The year 2023 marks the mid-point of the 2030 Agenda for Sustainable Development. This is an opportune moment to reflect on progress in the Asia-Pacific region towards achieving the SDGs, as well being reminded of the significant work that remains to be done. 
Produced by the United Nations Economic and Social Commission for Asia and the Pacific (ESCAP), the Asia-Pacific SDG Progress Report 2023 will shine a spotlight on countries that have demonstrated commitment and progress towards the 17 global goals. Their strong performance deserves recognition, and their experiences provide important lessons and illuminate pathways for progress in the years ahead.
Unfortunately, this year's report also reveals that the Asia-Pacific region has achieved less than 15 per cent of the necessary progress, which could result in substantial delays in accomplishing our 2030 ambitions. While the full impact of COVID-19 has yet to be quantified, data on a limited number of indicators are beginning to reveal impacts on people, planet and prosperity.