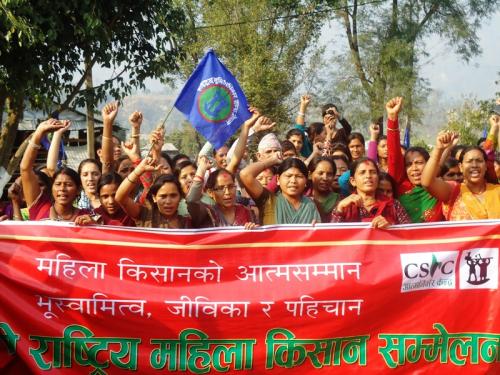 In Nepal, only twenty percent of women have some form of land ownership. Deprivation of land rights is synonymous with poverty and denial of rights. But over time a number of women-led land rights campaigns have brought about important changes at the national policy level.
A few years-ago, the National Movement for Timely Constitution Writing and Land Reform saw more than 1,000 poor women, and more than one hundred men, from 50 districts descending upon Kathmandu. This historic event saw working women raising their concerns directly with political parties. One of the major outcomes was that the Government of Nepal legislated for the implementation of joint land ownership certificates in 2010, incentivized by discounts in the registration of land granted to village women living in remote areas.
As a volunteer with VSO, an international development NGO that fights poverty through the lasting power of volunteering, I'm passionately committed to doing my piece to overcome poverty, bringing people together, sharing skills, and building capabilities to make the world a fairer place for all. Through my work with local partner Community Self Reliance Centre,  (CSRC), especially on women's issues, I feel that I am making a difference and becoming more of a world citizen in the process.
Women's empowerment and land reform is a major part of the work VSO and CSRC are advocating for.  Under the formal law, women in Nepal can access land through inheritance, land purchase, leaseholds and government land allocations. The 2007 Interim Constitution (IC) provides that all Nepali citizens are equal under the law and forbids gender-based discrimination. The IC states that daughters and sons have equal rights to inherit ancestral property, and the constitutional mandate of equality takes precedence over inconsistent traditions, custom, and practices. 
 
Earlier this year CSRC held the second Women's Farmer Land Right Conference, resulting in:
·         Increased confidence and commitment on the part of women, to claim their land rights and other natural resource ;
·         Enhanced debate on women and land rights and action planning for the substantial expansion of women's focused campaigns;
·         Encouragement to prepare Joint Land Ownership Certificates;
·         Increased understanding on legal aspect of women's issues and building the capacity of Rural Women Farmer Leaders;
·         Provided a strong basis to take forward the movement linking it with human rights;
·         Helped to entrench the culture of the movement, deepen the agenda and enhance the leadership of frontline leaders; and
·         Provided a platform for landless women farmer to express their feelings, build power and exchange knowledge and learning.
In a patriarchal country like Nepal, access to land is fundamental to women's (and poor men's) empowerment. Land rights bring about security, independence and confidence, which together enables women to become active in all social and political arenas, enabling them to receive basic government services. Owning land also enables women to be more fully recognized as equals, providing them with more decision making power in their households and actually decreasing domestic violence.  Woman land owner, Yasodha Rakhal, from the rural Sindhupalchowk district  stated "After being involved in the land movement, I acquired the Guthi Land and subsequently made joint land ownership certificate. By now, we have initiated farming, from which good earnings are being received."
Writing for Rising Nepal, Bina Agarwal, makes the case for Why Property Rights for Women Matter: "The benefits of possessing land are compounded for women, who are more dependent on agriculture than men, since men have been increasingly migrating to non-farm jobs.  Land in women's hands not only enhances their own livelihood options, but also the welfare of their families.  Many studies reveal that women tend to spend a larger proportion of their incomes from employment or assets on family needs, especially children's needs than men." 
Meanwhile, VSO continues to advocate for women's participation and influence in the decision that affect them if the international community is to meet the Millennium Development Goal on gender equality. Its recent Women in Power report highlights how "one of the deepest and most persistent fault lines of poverty and inequality in the world today is the lack of power that women have to influence decision making compared to men. Evidence shows that we are still far from solving the problem."
On November 19, elections for a new Constituent Assembly, based on a parliamentarian system, are scheduled. It is only the second time in six years that elections have been held Nepal. This is a momentous time in the history of the country as Nepal attempts to become more democratic, post the Comprehensive  Peace Accord signed in November 2006 at the end of the ten- year 'People's War'.
Although there is an interim Constitution in place, the last Constituent Assembly was unable to draft a permanent document which highlights the vital importance of this election.  One hundred-and-forty (140) parties have registered, but 33 parties including the major CPN-Maoist party did not, threatening to hold a ten-day General Strike in the run up to and during the election.  One can already read about violence, but the army and police have been called out to help uphold people's voting rights, in a non-violent manner. 
Politically, Nepal continues to be in a transition phase.  Will the election make a difference in the lives of tenant and landless farmers, especially women?  This remains to be seen, but without providing empowerment opportunities and enabling women to ascend to leadership positions, overcoming poverty in Nepal will take much longer.  However, there is a great deal of space after the elections for advocacy based on holding the political parties accountable for the messages which they put forth in their manifestos.  This provides a great deal of hope for those who are land poor or landless, especially women. 
About VSO: VSO, Voluntary Service Overseas, brings people together to fight poverty through the lasting power of volunteering. We work alongside communities worldwide to create positive change. Our programmes are in some of the world's poorest countries reaching millions of people through improved access to services in education, health, HIV/AIDS, disability, and governance. VSO's vision is of a world without poverty, but we can only achieve this by working together. To find out more, visit www.vsointernational.org